Safety Controller
Safety controller
This compact new safety controller complies with ISO13849-1 PLe and IEC61508 SIL3 safety standards.
The most suitable application of MELSEC-WS is to ensure safe operation of stand-alone machines or systems.
To meet your system configuration, it allows you to have additional I/O points of up to 144. Also, you can easily make settings and create logic by using the Setting and Monitoring Tool exclusively provided for the controller.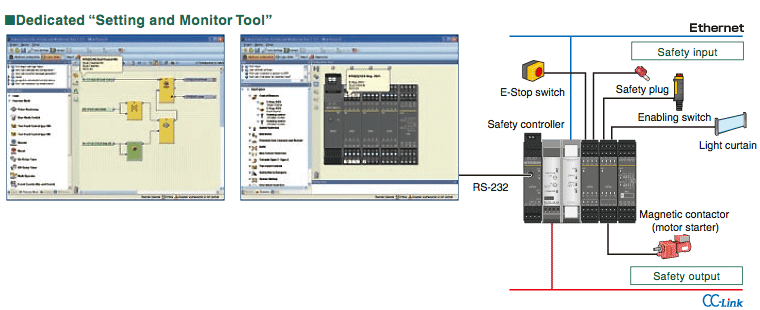 CPU module(WS0-CPU1) supports Flexi Link with EFI for safety communications between safety controllers
Safety communications between safety controllers can be easily established at a low cost just by connecting the CPU modules with dedicated cables (Flexi Link cables).
Using Flexi Link, safety communication can be conducted between up to four safety controllers.
MELSEC-WS basic configuration
| Product name | Model | Abbreviated product model name |
| --- | --- | --- |
| CPU module | WS0-CPU000200 | WS0-CPU0 |
| CPU module (with EFI) | WS0-CPU130202 | WS0-CPU1 |
| CPU module memory plug | WS0-MPL000201 | WS0-MPL |
| Safety input module | WS0-XTDI80202 | WS0-XTDI |
| Safety I/O module | WS0-XTIO84202 | WS0-XTIO |
| Safety relay output module | WS0-4RO4002 | WS0-4RO |
| RS-232 cable connecting to CPU module | WS0-C20R2 | — |
| USB/RS-232 conversion cable | WS0-UC-232A | — |
| Ethernet interface module | WS0-GETH00200 | WS0-GETH |
| CC-Link interface module | WS0-GCC100202 | WS0-GCC1 |
| Screw-in replacement terminal block | WS0-TBS4 | — |
| Spring clamp replacement terminal block | WS0-TBC4 | — |
| Setting and Monitor Tool | SW1DNN-WS0ADR-B | — |

This product was jointly developed and manufactured with the German safety device maker SICK AG.
Please note that the terms of the warranty differ from other PLC products.
SICK AG
http://www.sick.com/


Download
Presentation Movie