Features
Branching a single SSCNETIII/H communication line in three separate directions
The MR-MV200 can branch a single SSCNETIII/H network line in three separate directions. This enables distribution of the high-performance MELSERVO-J4 series servo amplifiers with flexible wiring arrangement.
● This unit is introduced just by making some changes in wiring without making any new settings.
● Longer-distance wiring becomes available by using this optical hub unit.

Reduced system restoration time by powering off only the desired servo amplifiers
When servo amplifiers are distributed using the MR-MV200, the servo amplifiers can be turned OFF independently without affecting other servo amplifiers connected to other branched lines. This leads to significant reduction in restoration time by turning OFF only the amplifiers with errors.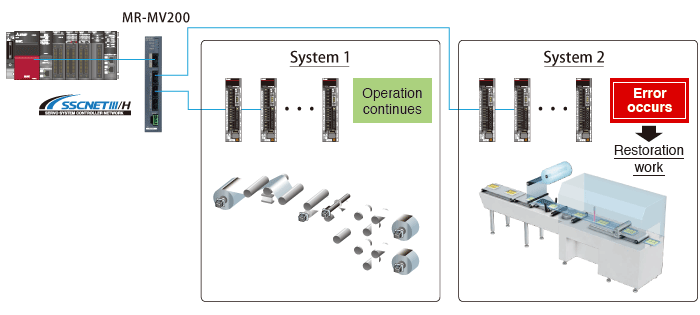 Topology
The optical hub unit allows more flexible topologies, such as star, line, cascade topologies, or the combination of these.
● Topology examples
Various topologies can be combined, so you can configure an ideal wiring arrangement for your application.

Applicable controllers
[Motion controller]
● MELSEC iQ-R Series: R64MTCPU, R32MTCPU, R16MTCPU
● MELSEC-Q Series: Q173DSCPU, Q172DSCPU, Q170MSCPU, Q170MSCPU-S1
[Simple Motion module]
● MELSEC iQ-R Series: RD77MS16, RD77MS8, RD77MS4
(Note): Be sure to check the Motion controller operating system software version when introducing the optical hub unit.
(Note): Refer to each product manual for details.
(Note): Be sure to confirm that "SSCNETIII/H" is selected in the system setting when introducing the optical hub unit.
Functions List
Optical Hub Unit
MR-MV200
Input power supply
Input voltage [V]
21.6 to 26.4 VDC (24 VDC±10%)
Input current [A]
0.2
Consumption power [W]
4.8
Mass [kg]
0.2
Mounting method
Directly mounted to the control panel or with DIN rail
Cable length [m(ft.)]
Up to 100 (328.08)
Number of optical hub units
Up to 16 units/line
Connectable servo amplifiers
MR-J4-B(-RJ), MR-J4W2-B, MR-J4W3-B
Number of servo amplifiers (Note-1)
Up to 16 axes/line
Exterior dimensions [mm(inch)]
168 (6.61) (H)×30 (1.18) (W)×100 (3.94) (D)
(Note-1): MR-J4-B, MR-J4W2-B, and MR-J4W3-B are 1-axis, 2-axis and 3-axis amplifiers, respectively.