Small screen, big possibilities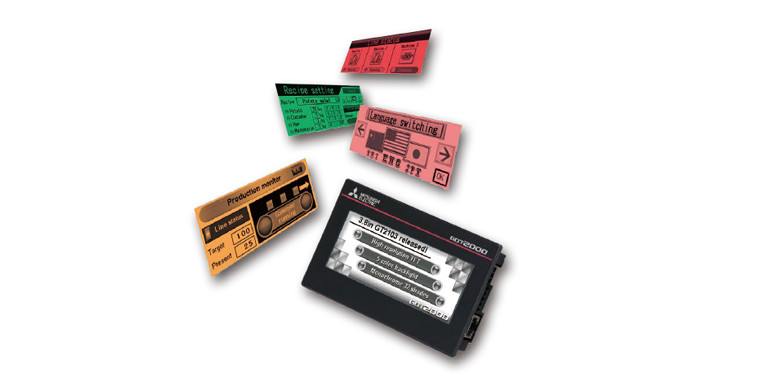 Small, compact, easy to operate!
Ethernet built into a compact body! *1
Four-times higher resolution (320 × 128dot) than conventional models *2
*1 Ethernet type model only
*2 Compared with GT1020
Item
Specifications
Display
3.8" size, monochrome (black/white),32 shade grayscale TFT LCD display
Resolution
320 × 128 dots
Backlight
5-color LED (white, green, pink, orange, red)
User memory
Memory for storage (ROM): 3 MB
Standard interface
GT2103-PMBD: Ethernet, RS-422/485
GT2103-PMBDS: RS-232, RS-422/485
GT2103-PMBDS2: RS-232 × 2 channels
GT2103-PMBLS: RS-422 (dedicated to FX connection, 5 V DC power supply type)
All models: USB device (USB Mini-B) 1 channel (Full-Speed 12 Mbps)
High-definition LCD
GT2103 is equipped with an easy to see, compact high-resolution TFT LCD with 32 gray scales.

SD memory card unit is avaiilable!
SD memory cards can be used when the optional SD memory card unit is attached.
* GT2103-PMBD, GT2103-PMBDS, GT2103-PMBDS2 only
GT2103-P external appearance [rear face]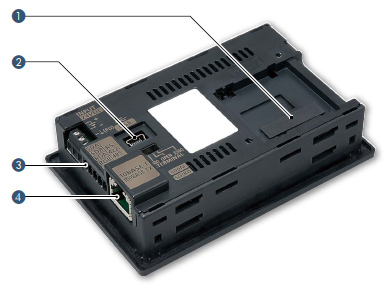 Display statuses with changeable color backlight
The intuitively understandable 5-color backlight offers choices of backlight color and backlight blink according to machine operation state.The backlight can also be controlled from the connected PLC (screen color change and backlight ON/OFF/blink).
GT21 model product map