High performance, cost efficient, mid-range model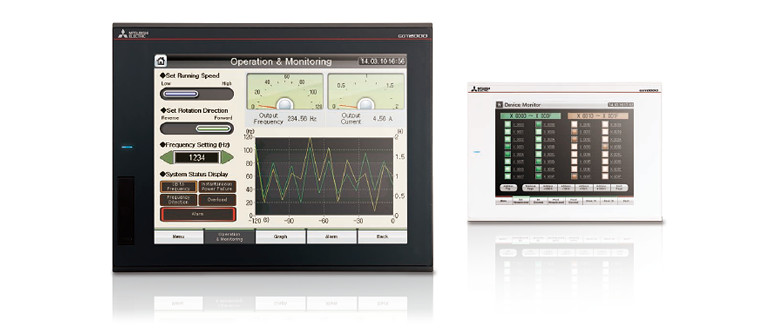 A wide variety of specifications suit every system design
Communication interfaces such as Ethernet, RS-232, RS-422/485, USB host/device and SD memory card are standard features. High capacity data processing ensure smooth screen operation even when multiple tasks,such as logging, script, alarm, or device data transfer, are running.
Item
Specifications
Display
5.7"

NEW

, 8.4", 10.4", and 12.1" size, 65536 colors TFT LCD display
Resolution
SVGA, VGA
Backlight
White LED
User memory
Memory for storage (ROM): 32 MB
Memory for operation (RAM): 80 MB
Standard interface
Ethernet, RS-232, RS-422/485
USB host (USB-A) 2 channels

*1

(High-Speed 480 Mbps)
USB device (USB Mini-B) 1 channel (High-Speed 480 Mbps)
SD memory card interface
Extension interface*2
CC-Link IE Controll, CC-Link IE Field, CC-Link, bus, MELSECNET/H
Side interface*2
For installing a wireless LAN communication unit
*1

GT2505 and white model have 1 channel.

*2

GT2505 has no extension interface and side interface.
FA Transparent function simplify your debugging work!
By connecting a personal computer to the front USB interface on the GOT, the GOT acts as a transparent gateway to enable startup and adjustment of equipment. Users do not have to bother with opening the cabinet or changing cable connections.

GT25 model external appearance [Standard model: front face/rear face]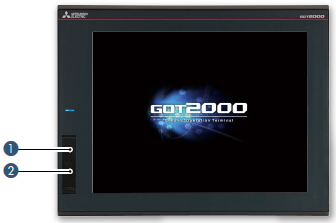 GT25 model external appearance [White model: front face]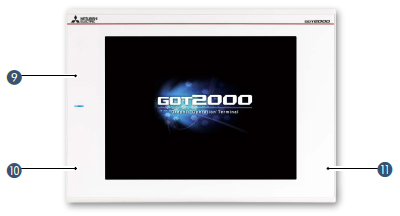 GT25 model product map