GT25 model Available in 2 sizes, 2 colors
Various interfaces are equipped in a compact body. The GOT wide model embodies the ideal features of HMI.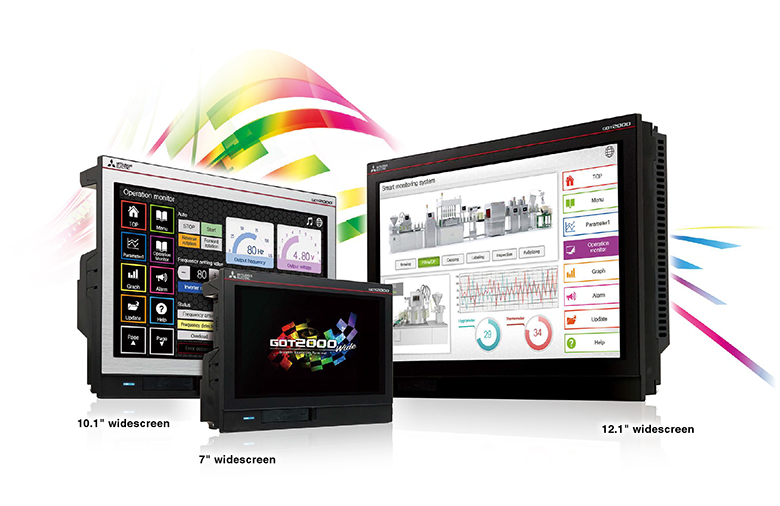 Feature
Ultra high resolution WXGA:
1280 × 800 dots

*

10.1 inch model

Two Ethernet ports are equipped as standard

Built-in sound output interface

Support wireless LAN communication unit
Item
Specifications
GT2510-WXTBD
GT2510-WXTSD
GT2507-WTBD
GT2507-WTSD
Display
10.1" Wide,
TFT color LCD,
65536 colors
7" Wide,
TFT color LCD,
65536 colors
Resolution
WXGA
1280 × 800 dots
WVGA
800 × 480 dots
Backlight
White LED
User memory
Memory for storage (ROM): 32 MB
Memory for operation (RAM): 128 MB
Standard interface
Ethernet (2 ports), RS-232, RS-422/485,
USB host (USB-A), USB device (USB Mini-B), sound output, SD memory card slot, wireless LAN communication unit interface
Various interfaces
Ultra high resolution display improves expressiveness

Ultra high resolution WXGA screen* displays necessary and sufficient information on one screen.

* 10.1 inch model

For the details, please see here.

Separate the network with two Ethernet ports

Two Ethernet ports physically separate the information system network in the office from the control system network at the production site. The network architecture becomes safer and more secure by setting different IP addresses for each network.

Add value to your system with sound notification

The built-in sound output interface makes it easy to implement the sound notification system. Not only by displaying the contents of events on the screen but also by notifying with sound, you can convey the necessary information to the operators.

For the details, please see here.

Wireless network makes remote maintenance easy

Installing the wireless LAN communication unit on GOT enables wireless LAN connection between a personal computer and the GOT*. In addition to transferring project data, you can use the FA transparent function, the GOT Mobile function, and others.

* A separate access point can also be used.
GT25 Wide Map