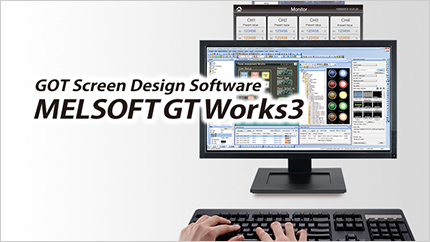 Professional designs. Maximized efficiency. Intuitive operations.
All made possible by GT Works3.
Support screen creation
Utilize data
Reuse previous projects
When creating a new project, search through the existing projects to find any existing projects that may be reused.
Keyword search helps narrow down the search.
Specify search range
Select "Sample Project" to reuse a sample project.
Select or input a keyword
Select a prepared keyword or input an arbitrary keyword.
Search results are displayed
Choose the applicable project from the search result
Procedure: [Project] → [New] → [Utilize Data]
Reuse previous screens
Reuse individual screens from past or sample projects. The settings are also applied and reused so that you can create project data easily.
Search results are displayed
Just drag and drop to easily apply associated settings to your screen.
Search by target/category/keyword
Select a search target, category, or keyword and you can quickly find the screen you need.
Procedure: [Screen] → [New] → [Utilize Data]
Shortcut key: Ctrl + Shift + F
Data browser
The data browser shows a list of objects used in the project. The settings can be edited directly on the browser or by opening the setting dialog. You can easily identify any duplicate data and no longer have to open multiple screens.
●Display targets
Figures, objects, screen scripts, screen trigger actions
●Editable details
Directly edit devices and text, etc.
Change devices, text, colors, and figures in a batch
Change action settings, fonts, and figures
Change range settings of numerical displays and other objects
Copy/paste multiple cells
Sort and narrow down items by using devices/keywords
Interchange columns with drag & drop
Procedure: [View] → [Docking Window] → [Data Browser]
Shortcut key: Ctrl + E
Label/Global label
<Label>
Instead of using devices, use label names to create easy-to-understand project data efficiently. Not only Mitsubishi Electric programmable controller devices, but also non-Mitsubishi Electric controller devices and GOT internal devices can be assigned to labels. Labels can be used in GT Works3. In addition, labels can be imported from GX Works3, GX Works2, and MT Developer2.
Procedure: [Common] → [Label] → [New Label Group]
<Global label>
Global labels can be imported from GX Works3 and labels can be imported from MT Developer2. Arrays and structures are supported.
Procedure: [Project] window → [Label] → [Global label] → [Import]
Input assist
When setting your labels/devices, "Input Assist" provides a list of applicable labels/devices, complete with label comments, device comments, and device definitions.
➊ Input device name

*

➋ Devices corresponding to the input device name are displayed from the devices preset in the project or from the history of recently set devices
➌ Select from the list and set the device
➊ Import a device comment file of GX Works3/GX Works2/GX Developer
➊ Input a keyword
➋ The list shows the devices that have the input keyword in their device comments
➌ Select from the list and set the device
*

When entering a device, it is possible to disable IME to enter only one-byte characters.
(Setting method: [Tools] → [Option] → [Turn off IME at the time of device input])
Procedure: List appears when entering a device
Template
Customize each template to the desired look-and-feel, ranging from color options to device selection. Attributes such as devices and colors can be set for each template.
You can easily change devices and colors by associating each object with the template´s attribute.
Template attributes (color)
● Historical trend graph line color
● Text color
● Numerical display value color

●

Items that can be registered in templates
Figures, Objects

●

Attributes that can be registered and changed in templates
Device (Bit, Word), Numerical value, Text, Color, Figure, Font, Text size
• Selecting from library
Procedure: [View] → [Docking Window] → [Library List (Template)]


Shortcut key:

Alt + F9
• Creating template
Procedure: Select object → Right-click → [Template Registration] → [Register to Template]
NEW
Align
Selected figures and objects are aligned to the anchored figure or object according to the specified alignment type.
Graphical meter
Just select a meter from the preset list and you can create stylish, clear meters. The position and angle of scales can be adjusted by mouse operation and the shape and design can be changed easily. Warning color display indicates the machine status clearly.
Procedure: [Object] → [Graphical Meter]
Antialiasing
Antialiasing smoothes out jagged text edges and displays elegant characters.
Procedure: [Common] → [GOT Type Setting] → [Enable the antialiasing to smooth jagged text edges]
Specification details and restrictions
● Font usable with antialiasing Outline font
● Precautions when creating screens When antialiasing is enabled, place the object using an outline font on the back layer. If you place such an object on the front layer, antialiasing may not be processed properly.
e-Manual
e-Manual is the Mitsubishi Electric FA Electrical Document Manual with a dedicated viewer (e-Manual Viewer). Useful functions are included such as keyword search of multiple manuals, saving your favorites, saving memos, and others.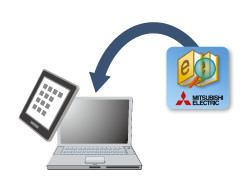 ➊ Install e-Manual Viewer
➋ Always download the latest manuals. Easy to update with just one click!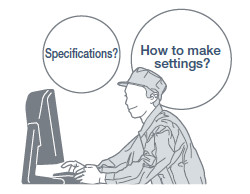 ➌ Increase your screen design efficiently
Quickly confirm with F1 key
Press the F1 key in GT Works3 and jump to e-Manual for the dialog being edited! Quickly check setting methods and other information!
Easy to view, easy to use!
Easy to view contents, easy to use, useful functions help you access manuals effciently. Quickly search for the information you need.
Cross Manual Search
Search required information from multiple manuals by keyword. You can get to the information you need without opening manuals one by one.
Bookmark
Bookmark frequently used manuals and pages and you can check the information quickly.
Note
Take a memo, such as know-how, and add it to the manual and you can customize manuals as you like.
Procedure: [Help] → [GT Designer3 Help]
Shortcut key: F1
Specification details and restrictions
* For the details, please contact your local sales office.
< GOT manuals available in e-Manual >
● Manual name GOT2000 Series User´s Manual (Hardware), GOT2000 Series User´s Manual (Utility), GOT2000 Series User´s Manual (Monitor), GT Designer3 (GOT2000) Screen Design Manual
< e-Manual Viewer Windows® version >
● Supported OS Microsoft® Windows® 10, Microsoft® Windows® 8.1, Microsoft® Windows® 8, Microsoft® Windows® 7, Microsoft® Windows Vista®, Microsoft® Windows® XP
● How to obtain e-Manual e-Manual is included with GT Works3 Ver.1.155M or later. For the details, please contact your local sales office.
< e-Manual Viewer tablet version >
● Supported OS Android™ 4.3/4.4/5.0, iOS 8.1 or later
● How to obtain e-Manual e-Manual is available for download from application distribution sites. (Search by "Mitsubishi Electric e-manual")