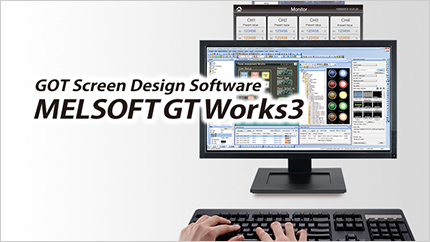 Professional designs. Maximized efficiency. Intuitive operations.
All made possible by GT Works3.
Screen configuration (GOT2000)
Work tree
View projects, and easily add or delete screens!
Data transfer
Transfer data with
a single click!
Simulator
Check operations with a single click!
Library
Easily create stylish screens!
Utilize data
Search through existing screen
assets with keywords and
effectively use data!
Sample projects
A variety of samples are
available for use!
Property sheet
Setting details are shown as a tree view,and can be changed in a batch!
Data browser
Settings are listed allowing settings to be confirmed and revised easily!
Dialog box
The easy-to-see display makes it simple to complete your settings!
Graphical meter
Create stylish, clear meters
Table
Easily create tables