Product structure
An MES interface product suite that allows easy connectivity between the production environment and an MES at low cost
MES Interface products enable production equipment and the MES database to be connected directly without requiring a communications gateway (e.g., computer).
Information collected on the MELSEC PLC is processed by the PLC MES interface.
Information from existing equipment and the controllers of each company is processed by the GOT2000 MES Interface function.
Information acquired and analyzed by MELQIC is processed by the MELQIC MES Interface board.
Information sharing between production and inspection equipment and the MES is easy, realizing reduced cost.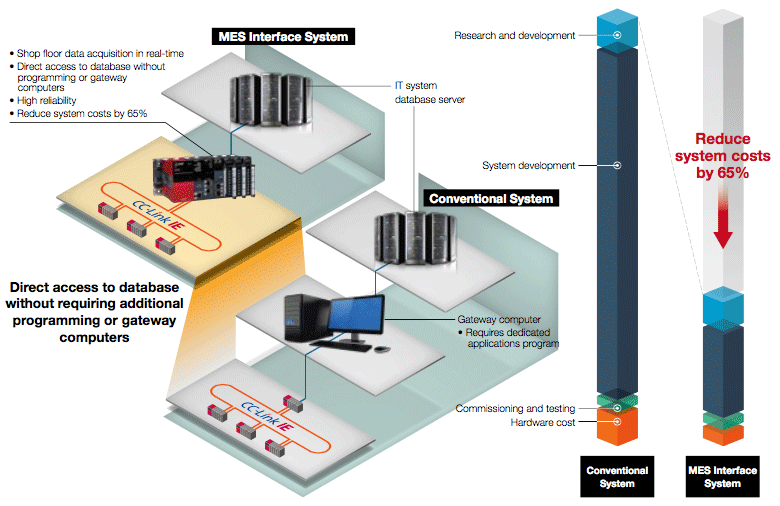 gatewaycomputersInformation collected from the shop floor sent directly to the database
The conditions regarding event data generation can be monitored on the MES interface side and when the conditions are established, work results and other data are sent to the IT system database. The MES interface can also be used to retrieve data, such as work instructions, from the database.
System configuration costs reduced by 65%*1
MES Interface modules enable direct connectivity between IT database servers and programmable controllers on the shop floor, eliminating the need for gateway computers or specified programs. Being much more reliable than computers, the MES Interface saves on maintenance costs typical of computers.
*1. Assumption based on a typical control architecture.
Powerful support from products offering FA-IT information linkage
Supporting functions that ensure data reliability
Information with timestamps is temporarily saved to a SD or CF card during communication faults or when no response is received from the server.
The data is automatically resent when the problem is resolved, therefore securing data continuity.
SNTP enables time synchronization between the information system and production equipment.
Log acquisition is possible during communication faults.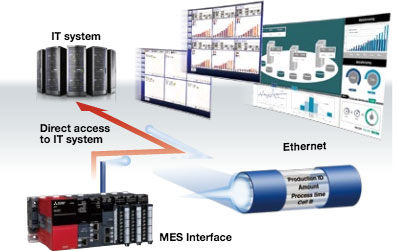 Program-free easy configuration (Easy to Use)
With the special-purpose configuration tool, it is possible to configure only the necessary items in the correct order utilizing a simple wizard-style setup process. SQL text is automatically generated based on configurations, therefore eliminating the need to create a program for data communication.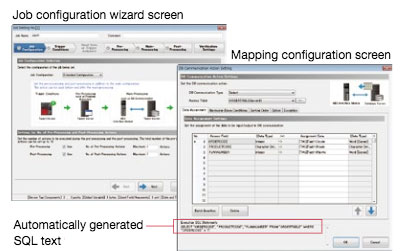 MELSEC iQ-R/MELSEC-Q PLC MES Interface
PLCs are connected directly to the MES without the use of gateway PCs or communication programs.
Comprehensive plant information, including production, equipment, quality, and energy data, are collected and managed via a seamless network.
Even the most detailed equipment-level information can be collected via an extensive field network.
Machine tools and equipment that utilize third-party PLCs can be easily configured into the open network.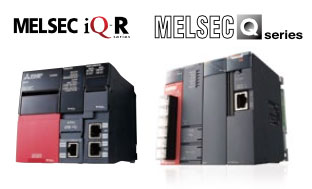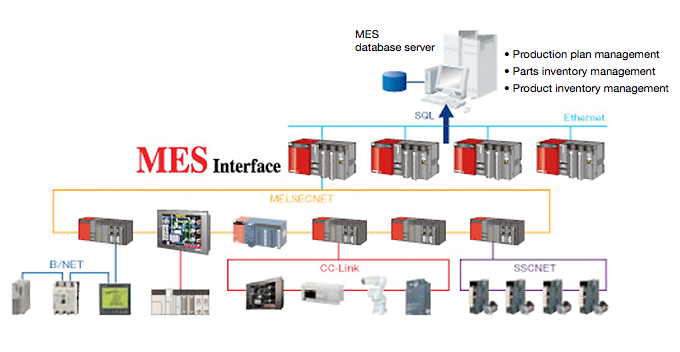 GOT2000 HMI MES Interface
The GOT2000 HMI collects and sends data from connected FA products to the MES.
Collects data from existing equipment and other equipment that utilize third-party PLCs.
Supports operators' tasks by providing access to a barcode reader, document viewer, or other such tools.
Equipped with substantial information management functions characteristic of a display unit (HMI).

Displays logging data
(logging function + display of historical trend graph/historical trend list)
Management of alarm history, such as equipment alarms and production history
Management of worker operational history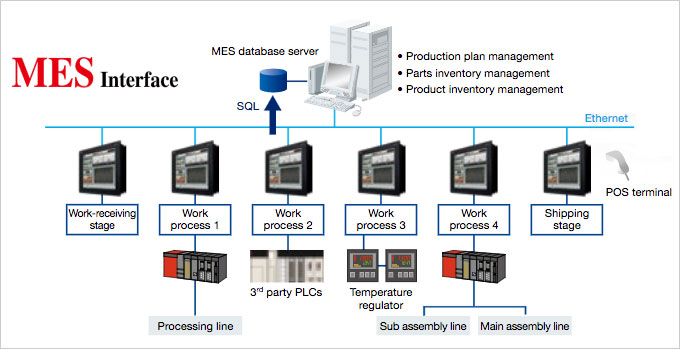 MELQIC MES Interface
Collecting production and inspection information from the shop floor in real-time.
Informatization of inspection data using highly reliable hardware
By being HDD-free and equipped with a real-time OS, long-term stable use as an FA device is possible, and various communications such as MES Interface, CC-Link, CAN and GP-IB are supported
The adoption of VISIO allows high functionality with easy programming
Multi-channel sampling maximum 10MHz/data analysis FFT, digital filter, peak detection, rise/fall detection, etc.
High-speed logging (maximum 1ms interval, maximum 90 channels)/built-in computer card slot (maximum 16GB)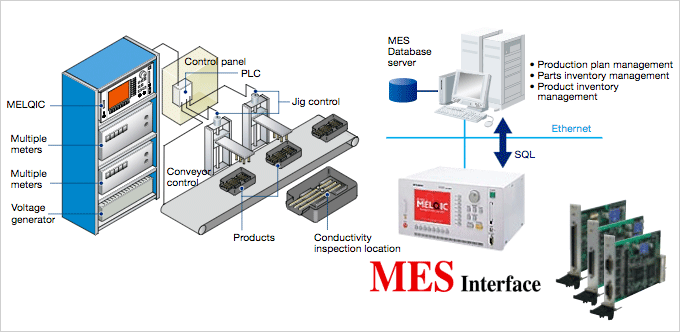 M800/M80 Series computerized numerical controller MES interface
CNC sends machining information and operation status of machine tools to MES.
Enhances traceability and supports visualization of the entire factory.
When machining is complete or an alarm occurs, the information collected by the CNC is sent from the built-in MES interface to the database.
Achieves visualization of operation status, which simplifies the creation of production plans and production management, as well as the visualization of machining results and alarm occurrence status so that a higher standard of quality control can be realized.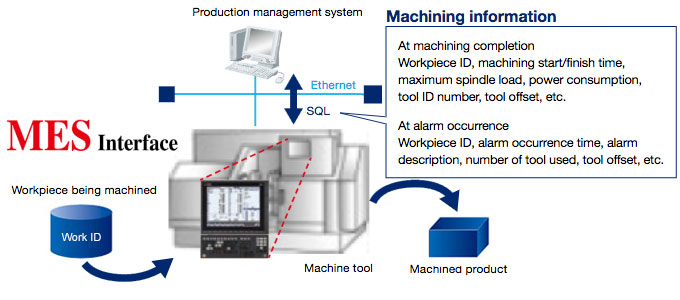 High Speed Data Logger / BOX Data Logger
PLC data logging possible with simple configuration.
Various measurement data are directly collected by the data logger to provide high-speed, easy, and low-cost data logging solutions with greater precision than conventional modules.Because there is no need to install PCs or dedicated devices on the shop floor,using the data logger contributes to minimizing system costs and improving system reliability.
An Assistant Wizard helps set up the appropriate logging method for the intended use, and the Viewer Utility generates trend graphs to facilitate data monitoring and analyses.
Since no PC or protocol converter is needed to collect data, initial costs can be kept extremely low.
Realize logging data management on the upper server by forwarding to an FTP server/Windows shared folder.
* Forwarding to a Windows shared folder is only possible when using the MELSEC iQ-R High-speed Data Logger
Automatic creation of graphical materials to suit the application, such as daily reports, ledgers and reports!
Data is recorded in synchronization with sequence scanning! (High-speed Data Logger)
The High-speed Data Sampling Function synchronizes the data logging task with sequence scanning, which is the smallest time unit of control, to ensure high-speed, high-precision data logging.The sampled data can be used not only to analyze machine performance, but also to identify the cause of errors when they occur, because the data logger records even the smallest change in control values.
Connect to existing equipment system while its running and begin collecting equipment data immediately (Box Data Logger)
Module can be attached to the DIN rail and easily connected to equipment via Ethernet or RS-232 serial port afterwards. Data logging for PLCs of other companies is also possible.

[ High-speed Data Logger / BOX Data Logger: Shared functions ]
High-speed, high-accuracy data logging
Assistance in the form of a wizard makes it easy to set the appropriate logging method for the purpose. In addition, display of trend graphs by the display utility provides a simple expression of monitoring data analysis results
Because no computer or protocol converter is necessary for data collection, initial costs are significantly reduced
The use of CF cards enables data logging over an extended period. In addition, sending saved log files to the server makes it possible to log data in excess of the capacity of the CF cards
Setting Excel file templates for layout, graphs, formulas, etc. in advance makes it possible to save data as ledgers or reports
GX Log Viewer is used as the display and analysis tool, enabling display and analysis of high volumes of collected data using easy-to-understand operations
Device data essential for detailed checks, etc. can be read from a recipe file (CSV format) and written to the PLC CPU at the specified timing
C controller
The use of a preinstalled-application model and development of programs in C and C++ grants you control, information processing, and superior communications processing functions.
Use of a preinstalled-application model
Data collection software
Realize low-cost data mining
It enables direct collection of target data and possesses features and functions enabling upper-level data analysis to be performed with minimal man-hours.
Program-free collection possible
A product offering the information you want, when you want it, and in the format you want it in. Through configuration only, the monitoring of equipment information and host-to-host communication*, as well as automatic collection of data, are possible.
* Host-to-host communication-supporting protocols: SECS-I, HSMS, GEM, FTP
Various analysis tools supported
Various types of analysis tools required for data mining are supported.

* Analysis tools must be prepared separately.

SECS/GEM communication software
Various communications possible program-free
Simply by configuring a data device-trigger relay handshake, various communication functions can be added to the PLC.
Various communication logs and PLC logs can also be output.
A large volume of equipment processing data can be reported without the use of a gateway computer and existing equipment can be brought online.
* Supporting protocols: SECS(SEMI E4), HSMS(SEMI E37), GEM(SEMI E30)

Program development using C/C++ language
Preinstall real-time OS (VxWorks)
Software development can be performed in an integrated development environment (CW Workbench)
Prepare a special-purpose tool to perform configuration/diagnosis on the various units