News Release Archives
Note that the releases are accurate at the time of publication but may be subject to change without notice.
FOR IMMEDIATE RELEASE No. 2779
Mitsubishi Electric Installs Two 3,385-inch Diamond Vision Displays at Reliant Stadium in Houston, Texas
The largest displays installed at sports facilities in North America
TOKYO, August 1, 2013
- Mitsubishi Electric Corporation (TOKYO: 6503) announced today that it has completed installation of two 3,385-inch Diamond Vision displays, both 1,352 ㎡ (16.0 meters high x 84.5 meters wide), at Reliant Stadium in Houston Texas, home of the Houston Texans American football team and the planned site of the 51st Super Bowl in February 2017. The displays, the largest in any sports facilities in North America, will be fully operative for the Texans' preseason home opener on August 17.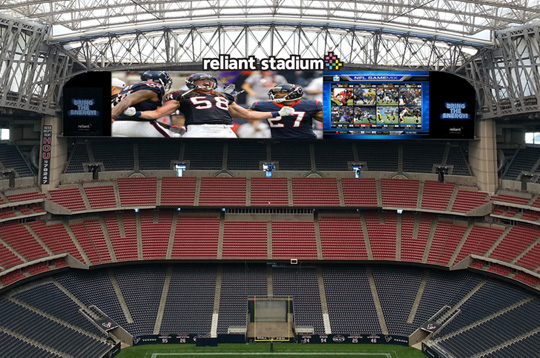 One of Reliant Stadium's
Two New Diamond Vision Displays
The Harris County Sports & Convention Corporation (HCSCC) ordered the two Diamond Vision displays, which are approximately 5.7 times larger than the previous display. They are installed behind the north and south end zones, respectively. Reliant Stadium was built in 2002 and seats more than 70,000.
Mitsubishi Electric has installed numerous Diamond Vision displays globally, setting several Guinness world records along the way. HCSCC selected Mitsubishi Electric's Diamond Vision because of its superior visual system technologies and acclaimed reliability. This is the seventh installation in a stadium hosting a team in the National Football League.
The following is a list of major professional sporting facilities in the United States where displays have been installed to date:
| | |
| --- | --- |
| • | Two 1,421-inch displays (14.72m h x 32.96m w) and other displays at Green Bay Packers' Lambeau Field in 2012 |
| • | 767-inch display (14.4m h x 13.12m w) and other display at Seattle Seahawks' CenturyLink Field in 2011 |
| • | 1,280-inch display (11.52m h x 30.4m w) and other displays at Boston Red Sox' s Fenway Park in 2010 |
| • | Two 2,086-inch displays (21.76m h x 48.32m w) and other displays at Dallas Cowboys' Cowboys Stadium in 2009 |
| • | 1,400-inch display (17.92m h x 30.72m w) at New York Yankees' Yankee Stadium 2008 |
Main Features of Diamond Vision LEDs at Reliant Stadium
| | |
| --- | --- |
| Screen size | 16.0m (h) x 84.48m (w); approximately 1,352㎡ (3,385-inch) |
| Light emitting element | High luminance LED element (red, blue and green) |
| Picture element count (dots) | 1,000 (h) x 5,280 (w) |
| Maximum brightness | 6,000 cd/㎡ |