News Release Archives
Note that the releases are accurate at the time of publication but may be subject to change without notice.
FOR IMMEDIATE RELEASE No. 3235
Mitsubishi Electric to Launch High-power 638nm Red Laser Diode for Projectors
Unprecedented 3.0W pulse-light output power will lead to extra-bright and miniaturized projectors
TOKYO, December 19, 2018
-
Mitsubishi Electric Corporation
(TOKYO: 6503) announced today that it will launch the ML562G86 pulse laser diode (LD) for projectors, featuring a vibrant 638-nanometer (nm) red light, world-record output power of 3.0W under pulse operation and mean time to failure
1
(MTTF) of over 20,000 hours, on April 1, 2019. The ML562G86's high output power and wide operating temperature range will contribute to enhanced projector luminance and miniaturization. Sample sales will begin on January 11, 2019.
| | |
| --- | --- |
| 1 | Standard evaluation of reliability |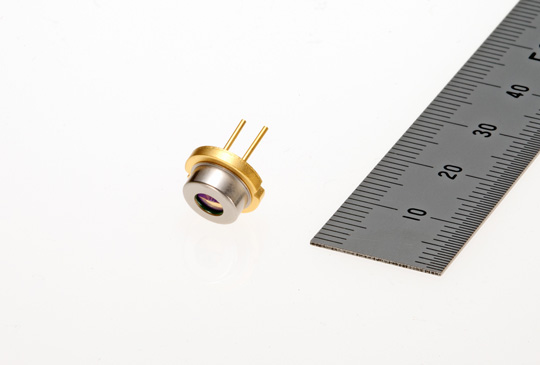 High-power 638nm-wavelength red-laser diode (ML562G86)
Product Features
1)
Unprecedented pulse-light output power of 3.0W and extended MTTF of over 20,000 hours


| | |
| --- | --- |
| - | World's top output power of 3.0W, which is 20% greater than that of the company's conventional model (ML562G84) |
| - | MTTF of over 20,000 hours thanks to improvements in LD chip structure and manufacturing processes |
| - | High output power and high-luminosity 638nm laser light achieve 145 lumens per LD |

2)
Wide operating temperature range will lead to projector miniaturization and cost reduction


| | |
| --- | --- |
| - | Wide operating temperature range of 0 to 45 degrees Celsius at 3.0W pulse operation thanks to a large 9.0mm-diameter transistor-outline can (TO-CAN) package with excellent heat dissipation |
| - | World-leading 2.1W pulse-light output power at case temperature of 55 degrees Celsius |
| - | Wide operating temperature range allows simplified cooling structure, contributing to projector miniaturization and reduced cost of cooling units |