News Release Archives
Note that the releases are accurate at the time of publication but may be subject to change without notice.
FOR IMMEDIATE RELEASE No. 3276
Mitsubishi Electric Adds New Functions to "MELFA Smart Plus Card"
Predictive maintenance and improved usability of force sensors realized with "Maisart" AI technology
TOKYO, April 23, 2019
-
Mitsubishi Electric Corporation
(TOKYO: 6503) announced today that it will release the "MELFA Smart Plus Card Pack" and the "MELFA Smart Plus Card" with upgraded predictive-maintenance and enhanced force-sensor functions for upgraded functionality in MELFA-FR series industrial robots on April 26, 2019. The new functions incorporate Mitsubishi Electric's original compact AI technology, Maisart
®
,
1
to realize 60% reductions in both takt time and system startup time to contribute to increased productivity at manufacturing sites.
| | |
| --- | --- |
| 1 | Mitsubishi Electric's AI creates the State-of-the- ART in technology |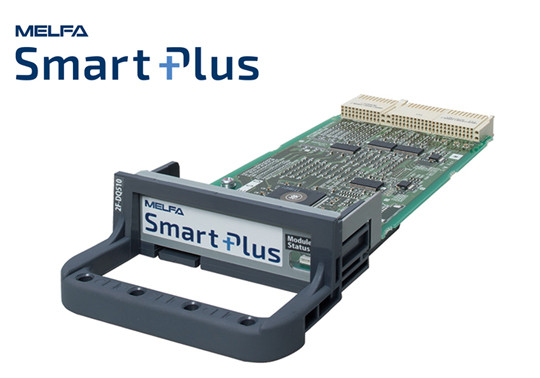 Insertion into MELFA-FR series
Product Features
1)
Reduces downtime by detecting abnormalities in advance (predictive maintenance)


| | |
| --- | --- |
| - | The predictive-maintenance function uses Maisart to detect and provide early warnings of abnormalities in drive-system products2 incorporated in robots, helping to reduce downtime. |
| - | Highly accurate predictive maintenance is realized simply by inserting the card into the robot controller, without having to add any other device or sensor. |
| 2 | Gearboxes, motor encoders, and batteries to maintain position-information memory |

2)
Shortened cycle time with automatic parameter adjustment (enhanced force sensor)


| | |
| --- | --- |
| - | Maisart automatically adjusts the parameters of systems that utilize force sensors3. |
| - | Takt time is reduced by 60%4 compared to a conventional method by controlling pressure exerted on target items, thereby helping to achieve higher-speed operations similar to those performed by skilled human hands. |
| 3 | Gearboxes, motor encoders, and batteries to maintain position-information memory |
| 4 | Compared to reference value for connector-insertion operation based on conditions set by Mitsubishi Electric |

3)
Shorter startup time though automatic program generation (enhanced force sensor)


| | |
| --- | --- |
| - | Operation start and end points need only be entered to automatically generate a program for the shortest-possible operation time. |
| - | Shortens system startup time by 60%4 compared to a conventional method. |
Release Schedule
Product
Name
Model
Name
Main Specification
Price
Release
Date
FY2019
Sales
Target
MELFA
Smart Plus
Card Pack
2F-DQ520
Equipped with all seven functions5, including predictive maintenance and force-sensor expansion functions
Open price
April, 26
200 units
MELFA
Smart Plus
Card
2F-DQ521
Any one of MELFA Smart Plus Card Pack functions5, such as predictive maintenance or force-sensor expansion.
Open price
5

See Function of MELFA Smart Plus table in the full document