R&D of Mitsubishi Electric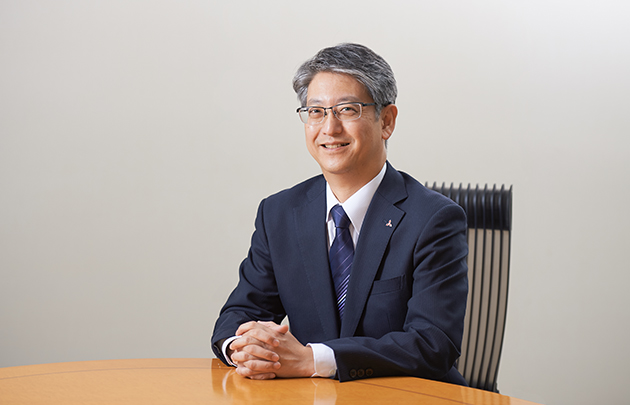 We create scenarios for the future society. Let's enjoy the possibilities of technologies.
Toru Oka
Executive Officer,
In charge of Intellectual Property,
Vice President, Corporate Research
and Development
Mitsubishi Electric has placed the realization of sustainability as a cornerstone of its management, underpinned by its fundamental principle of "addressing social challenges through our business." To this end, we will transform ourselves into a "Circular Digital-Engineering Company" that provides customers with advanced integrated solutions and collaborates to solve problems by strengthening the fusion and co-creation of knowledge from inside and outside the Group.
Technological development is essential to solving social challenges. What should we focus on and how should we find the solutions? How do we establish them as new mechanisms in society? We are responsible for creating a total scenario.
R&D's role is more important than ever. In addition, the barriers are high, big and thick. All the more reason to be excited about what we do. We have the opportunity to create our own stories for a better future.
We have developed world-class technologies and human resources across a wide range of business areas. In addition, we provide an environment in which knowledge and information can be shared across the entire organization. There are also opportunities for co-creation with industries and communities to shape major societal trends.
Surely, we will find our own unique way of solving problems and spreading them throughout society if we add the power of new knowledge to these strengths. Each of us should respect each other, think about everything from the global environment to our daily lives, and share our happiness with each other. On the way to such a future society, we will challenge the possibilities of technologies.
R&D Organization
In the Mitsubishi Electric Group's wide range of business fields, we are continuously deepening our basic technologies, while at the same time working globally to search for and create new technologies that will be the source of our next growth.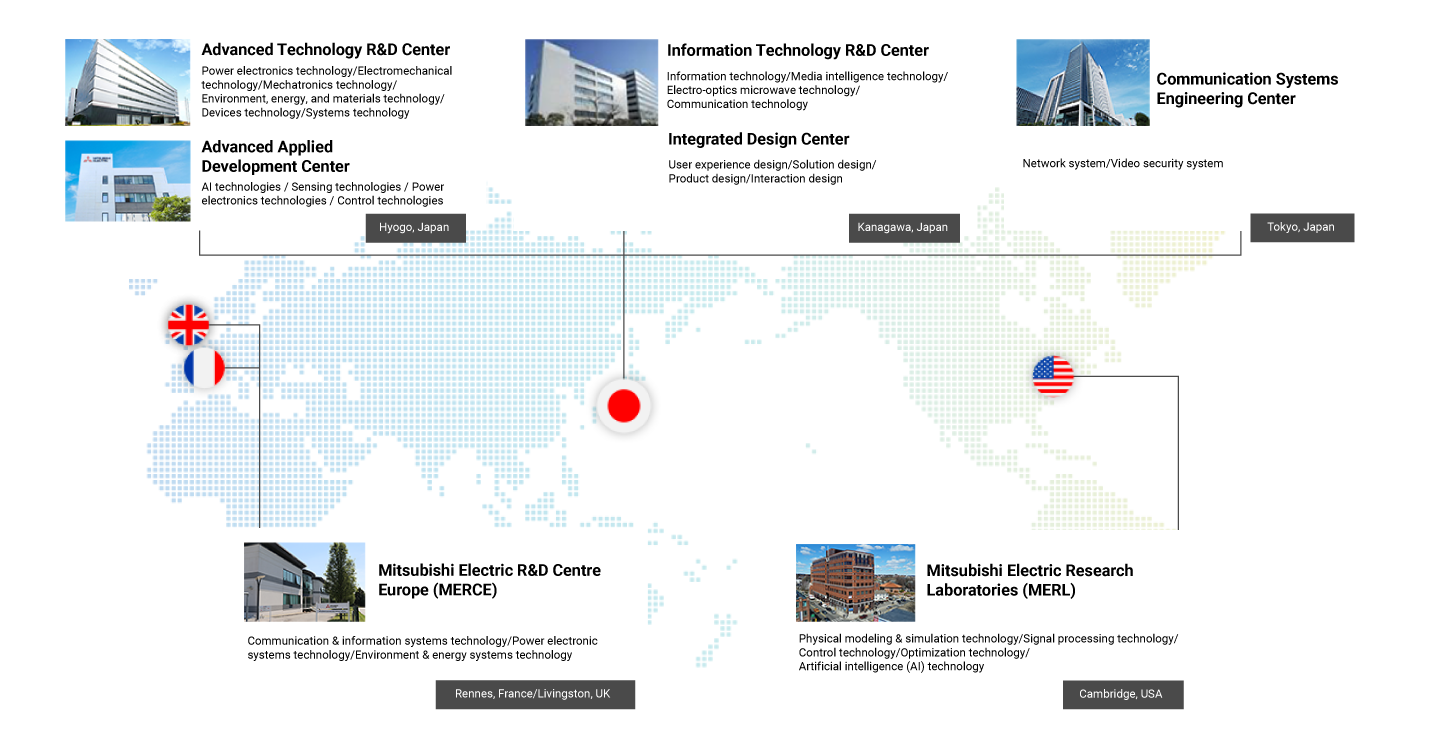 ---
Advanced Technology R&D Center

We are innovating a wide range of new technologies from fundamental research to the development of next-generation products and services. We are also developing technology that provides solutions to social issues.

Information Technology R&D Center

By promoting cutting-edge research and development in a wide range of information and communication technologies, from cryptography and artificial intelligence to radar systems and artificial satellites, we contribute to people and society.

Integrated Design Center

With an eye to the future, we create new value by designing products and services from a people-centered perspective to solve social issues.

Communication Systems Engineering Center

With communication and imaging technologies at the core, we have been working to design and propose new systems in a wide range of business fields by using advanced technologies.
Mitsubishi Electric Research Laboratories (MERL)

We conduct application-motivated basic research and advanced development in Physical modeling & simulation, Signal processing, Control, Optimization, and Artificial intelligence. We are an open laboratory, strongly involved with the world research community by publishing our work and collaborating with numerous interns and universities.

Mitsubishi Electric R&D Centre Europe (MERCE)

With two research centers in France and the United Kingdom, located in Europe's leading R&D community, we research and develop next-generation communication and information systems, power electronics systems, and environmental and energy systems.