Concept
Productivity

Mitsubishi Electric's original CNC-dedicated CPU provides a major leap in basic performance. A newly developed high-speed system bus approximately 40 times faster than our conventional product provides high-speed, large-capacity data communication. CNC control functions and drive units have been mproved, enabling high-speed, highly accurate machining. The C80 Series contributes to reducing cycle time and increasing productivity.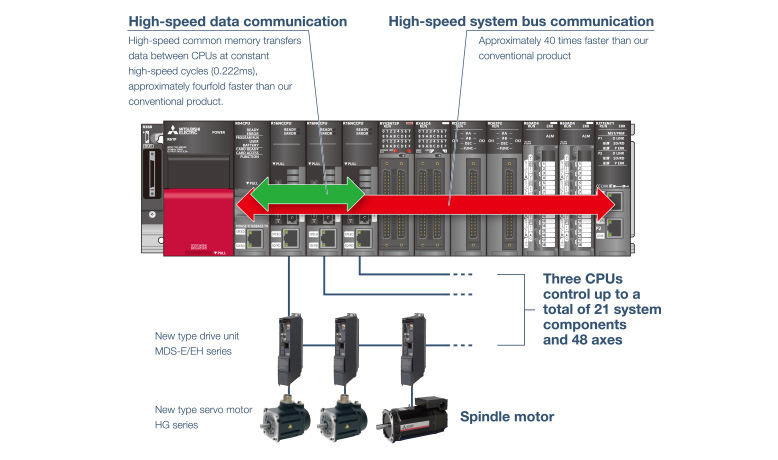 PLC processing capability
(PCMIX value)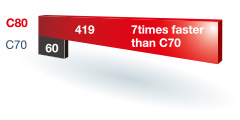 High processing capability of the PLC enables large-scale ladder logic to be processed at high speed in response to the demands in the era of IoT.
CNC-to-drive communication capability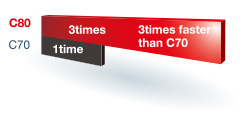 Optical communication speed between CNC and drive has been increased. This improves system responsiveness, leading to more accurate machining.
MSTB processing capability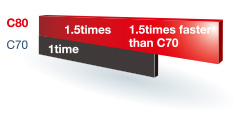 Miscellaneous command processing between CNC and PLC became 1.5 times faster than our conventional product. Shorter processing time leads to reduction in cycle time.
Expandability

The e-F@ctory integrated solution supports the future of machining in all areas, from development and manufacturing to maintenance, by utilizing advanced expertise and factory optimization to realize "total cost reduction."
The CNC C80 Series supports the iQ Platform, the integrated FA platform that forms the core of e-F@ctory.



Flexible system configurations
The PLC CPU is independent in the C80 Series, enabling selection according to production scale and application, and best-fit configuration of hardware.
Usability
CNC monitor2 newly developed to simplify use through the introduction of touch-screen operation displays the equivalent screen to the M800/M80 Series standard screens available in 8.4, 10.4 and 12.1-type models.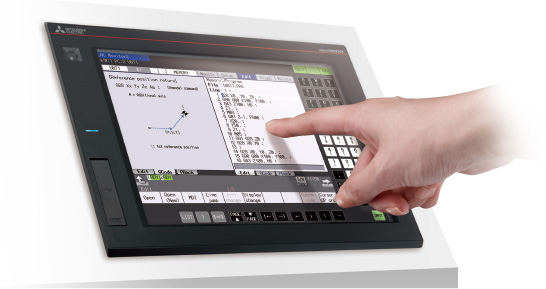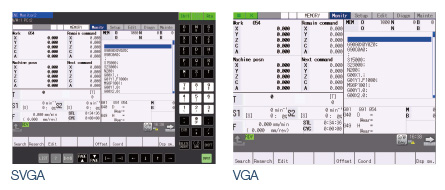 VGA added to product line
CNC monitor2 supports VGA in addition to the conventional SVGA resolut ion, which expands the availability of GOT2000 Series.
Maintenance

The C80 Series has greatly improved maintenance features compared to our conventional product, including the ability to acquire three times the alarm and warning history data. The program number and PLC number of the machining program executed can also be acquired, leading to early problem solving and less downtime.

Motor insulation degradation
detection function
Insulation resistance value measured by a drive unit can be displayed.
The trend graph displayed on GOT can be used for preventive maintenance.
Safety
The C80 Series provides a range of safety features collectively called the "Smart Safety Observation Function". This function has achieved full conformity with the safety standards that cover the entire system including CNC, drive, I/O, sensors and communication.
Smart Safety Observation Function
Safety-related I/O observation
Emergency stop observation
Safely-Limited Speed (SLS)
Safely-Limited Position (SLP)
Safe Operating Stop (SOS)
Safe Speed Monitor (SSM)
Safe Brake Control/Safe Brake Test (SBC/SBT)
Safe Cam (SCA)
Safe Stop (SS1/SS2)
Safe Torque Off (STO)
Easy functional safety system configuration