GX Works2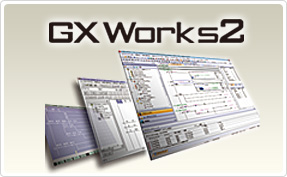 Integrated PLC Engineering Software
Ultimate evolution of PLC engineering software
International Standard IEC 61131-3 compliant
Now an easy-to-use engineering software is no surprise.
In addition to its sophisticated usability, the engineering software GX Works2 deploys the global mainstream concepts of "grouping" and "structuring" for fundamental improvement of programming efficiency.
The world-standard engineering style begins with GX Works2.
All-in-one package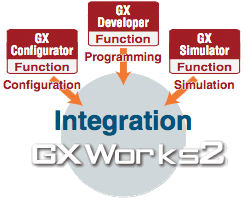 All capabilities required for PLC engineering including the configuration function of the intelligent function module and simulation function are integrated in a single package.
The all-in-one GX Works2 package supports entire engineering such as system design, programming, debug and maintenance.
Make full use of MELSEC PLC modules
GX Works2 enables full use of high-function and high-performance CPUs and modules.

Inherits customer assets
Existing GX Developer program assets can be used in GX Works2 without any modification.
Also, programs written by GX Works2 to the programmable controller can be read using GX Developer. For example, even if GX Developer is installed in a production site's PC, the data created and read with GX Developer can be used with GX Works2 installed in a development office's PC.
Sophisticated operability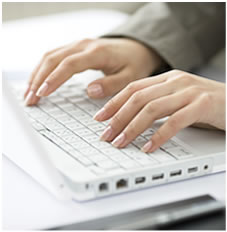 The favorable GX Developer functions have been incorporated to GX Works2 and the operability further improved.
The performance has also been enhanced to operate smoothly with improved responsiveness.
Operability will continue to improve to respond to customer applications.
International Standard IEC 61131-3 compliant
GX Works2 conforms to the engineering tool international standard IEC 61131-3, and supports structured programming with grouped parts.
Programming languages including SFC, ST and ladders, can be used according to each application.
In addition, several languages including SFC, ST and ladders can be used together in one program.