GX Works3
Reducing development costs through intuitive engineering
The engineering software is sometimes considered a fundamental part of the control system in addition to the hardware components. The core of the system, it includes various steps of the product life cycle, from the design stage all the way to commissioning and maintenance of the control system. Today, intuitive, easy-to-use software suites are expected as a standard for modern manufacturing needs. GX Works3 is the latest generation of programming and maintenance software offered by Mitsubishi Electric specifically designed for the MELSEC iQ-R and MELSEC iQ-F Series control system.
It includes many new features and technologies to ensure a trouble-free engineering environment solution.
Intuitive engineering software covering the product development cycle
Graphic-based configuration realizing easier programming
Various intuitive features such as graphic-based system configuration and an extensive module library (module label/FB) provided as standard.
Integrated motion-control system configuration
From setting simple motion module parameters and positioning data setup to servo amplifier configuration, everything is packaged into an easy-to-use engineering environment.
Complies with IEC 61131-3
GX Works3 realizes structured programming such as ladder and ST, making project standardization across multiple users even easier.
Simple point and click programming architecture
System Design
Straightforward graphic based system configuration design
Simply drag and drop from the module list to easily create system configuration
Directly setup parameters for each module
Automatically reflect changes in the layout to the module parameters
Programming
MELSOFT library enables efficient programming through "Module Label/FB"
Assign convenient label names to internal devices, rather than manually entering a device name every time.
Simply drag & drop module FBs from the MELSOFT Library directly into the ladder program, making programming even easier
Debug, Maintenance
Extensive version control features
Flexibly register program change (historical) save points
Easily visualize and confirm program changes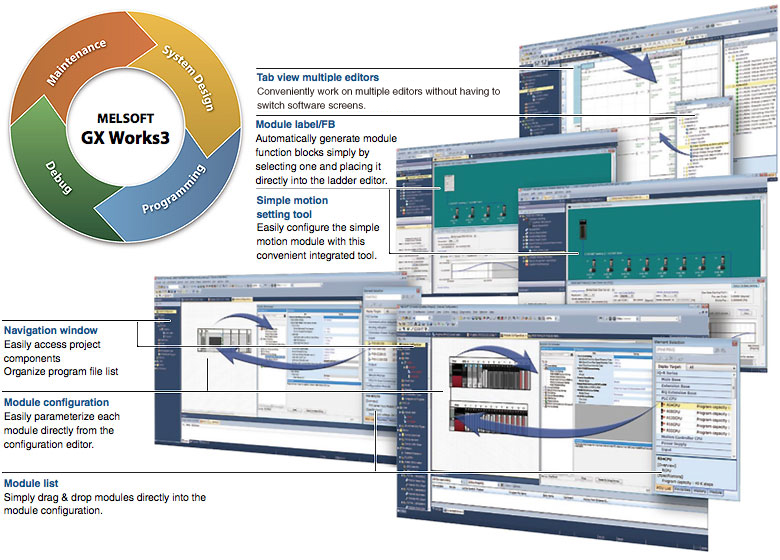 Global realization by multi-language support
To adhere to today's global production needs, GX Works3 supports multi-language features at various levels, from the multiple language software menu to the device comment language switching feature.