Flagship model equipped with advanced built-in functions and diverse expandability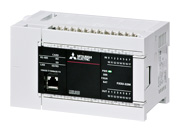 Simplifying use with renewed expansion modules!
FX5U is equipped with analog functions, communication and high-speed I/O, and can easily be expanded with expansion boards and adapters.
The high-speed system bus communication brings out the maximum performance of expansion devices equipped with intelligent functions.
Control scale
32 to 256 points (CPU module: 32/64/80 points)
Max. 512 pts including CC-Link, AnyWireASLINK, and Bitty series remote I/O
Program memory
64 k steps (Comment and statements in separate area)
Built-in analog input/output
A/D 2 ch 12-bit
D/A 1 ch 12-bit
Built-in SD Memory Card Slot
Max. 4 GB (SD/SDHC memory card)
[Application]
Stores device comment file and folders/files created by functions using SD memory card.
Built-in Ethernet Port
10BASE-T/100BASE-TX
[Application]

Socket communication (Direct connection to other PLCs)
Remote maintenance (Read/write program with GX Works3 connected via VPN)
SLMP Communication (Read/write PLC device data from PC)

Built-in RS-485 port
Conforming to RS-485 and RS-422 standards
[Application]

Inverter Communication (Max. length 50 m, max. 16 units can be connected)
MODBUS® Communication (Up to 32 devices can be connected, including other PLCs, sensors, temperature controllers)

Built-in
input/output
function
Built-in positioning
4 axes 200 kHz pulse output
Built-in
high-speed counter
Max. 8 ch 200 kHz high speed pulse input
(FX5U-32M: 6 ch 200 kHz + 2 ch 10 kHz)
Compact body packed with diverse functions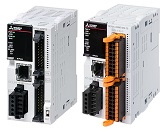 Simplifying use with renewed expansion modules!
The expansion module compatible with FX5UC is compact and easy-to-use, and helps to downsize your system.
Easily connect to the FX5 and FX3 expansion modules with the variety of conversion modules available.
Control scale
32 to 256 points (CPU module: 32/64/96 points)
Max. 512 pts including CC-Link, AnyWireASLINK, and Bitty series remote I/O
Program memory
64 k steps (Comment and statements in separate area)
Built-in SD Memory Card Slot
Max. 4 GB (SD/SDHC memory card)
[Application]
Stores device comment file and folders/files created by functions using SD memory card.
Built-in Ethernet Port
10BASE-T/100BASE-TX
[Application]

Socket communication (Direct connection to other PLCs)
Remote maintenance (Read/write program with GX Works3 connected via VPN)
SLMP Communication (Read/write PLC device data from PC)

Built-in RS-485 port
Conforming to RS-485 and RS-422 standards
[Application]

Inverter Communication (Max. length 50 m, max. 16 units can be connected)
MODBUS® Communication (Up to 32 devices can be connected, including other PLCs, sensors, temperature controllers)

Built-in
input/output
function
Built-in positioning
4 axes 200 kHz pulse output
Built-in
high-speed counter
Max. 8 ch 200 kHz high speed pulse input
(FX5UC-32M: 6 ch 200 kHz + 2 ch 10 kHz)