Controllers MELSEC-Q Series
Product features -Energy measuring, Insulation monitoring-

Energy measuring
Power measuring and insulation monitoring modules for easily measuring various energy information
Rack installation type energy measuring module
Energy measuring module

QE81WH

Energy measuring module (multi-circuit)

QE84WH

Energy measuring module (three-phase 4-wire product)

QE81WH4W

Energy measuring module (multi-circuit, three-phase 4-wire product)

QE83WH4W
Using only one module, highly detailed information about electric energy (consumption and regeneration), reactive energy, current, voltage, electric power, power factor, and frequency can be measured. Minimum and maximum values are constantly monitored and 2 types of upper/lower limit warnings can be implemented without any programming. The amount of electric power used by output devices only while ON can be measured.
The power rate during device operation and the power rate in takt units can be retrieved. The multi-circuit product allows power to be measured in a smaller space as up to four circuits can be measured with a three-phase 3-wire product in one slot, and up to three circuits with a three-phase 4-wire product. For example, one unit can be used to measure other loads from the control panel trunk.
In addition, the parameters can be set easily with GX Works2 (Version 1.91 V and higher).
Model
QE81WH
QE84WH*1
QE81WH4W
QE83WH4W*1
Phase wire system
Single-phase 2-wire/single-phase 3-wire/three-phase 3-wire
Three-phase 4-wire*2
Instrument
rating
Voltage
circuit
110 V AC, 220 V AC common
(single-phase 2-wire, three-phase 3-wire)
63.5/110 V AC…277/480 V AC
110 V AC (1 - 2 line, 2 - 3 line)
220 V AC (1 - 3 line) (single-phase 3-wire)
Using two-stage configuration in combination
with commercially-available voltage transformer (VT).
Primary voltage value can be set up to 6,600 V.
Current
circuit
50, 100, 250, 400, 600 A AC
(Using dedicated split type current sensor.
Each value indicates current sensor's primary current value.)
5 A AC
(Using dedicated 5 A current sensor.
5 A current sensor is used with two-stage configuration
in combination with current transformer (CT).
Primary current value can be set up to 6,000 A.)
Frequency
50/60 Hz (frequency automatically judged)
Number of
measurement circuits
1 circuit
4 circuits
1 circuit
3 circuits
Measurement items
Power rate (consumption, regenerative),
reactive power rate, period power rate,
current, voltage, power, reactive power,
power factory, frequency
Power rate (consumption, regenerative),
reactive power rate, period power rate,
current, voltage, power, reactive power,
apparent power rate, power factory, frequency
*1.

Current measurement mode is provided. Up to eight circuits can be measured when measuring only the current value.

*2.

The separate voltage transformer (QE8WH4VT) is required for the three-phase 4-wire compatible products.
Minimal impact on control panel layout
By installing the energy measuring module onto the open slot of the base unit, measuring instrument can be added without changing the layout in the control panel.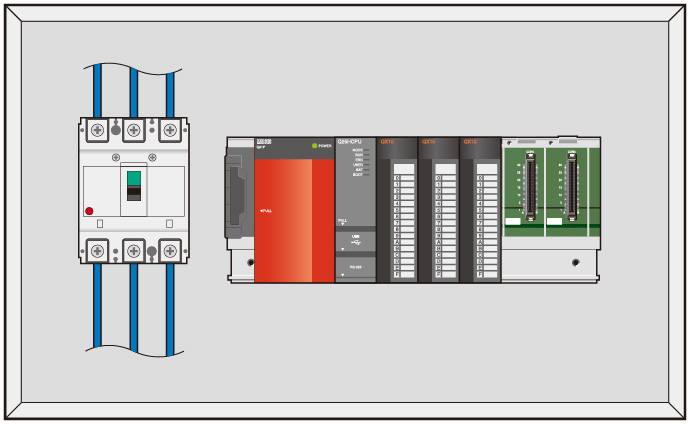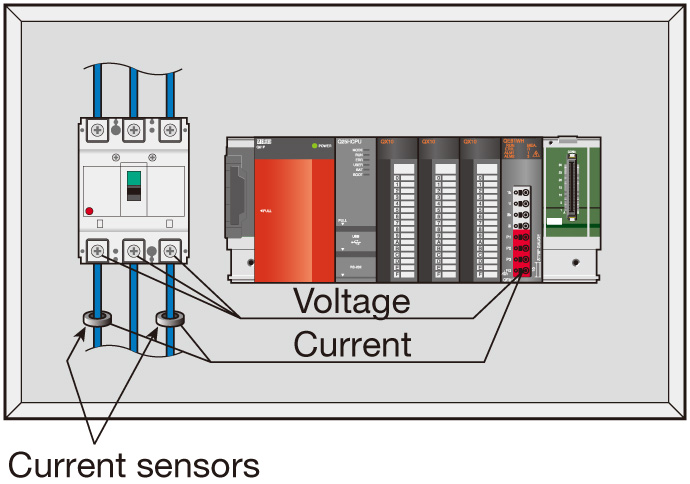 Allows for detailed power measurement at high speed (250 ms)
Allows for easy specific energy consumption*3 management by matching the "production information" of the CPU module with the "energy information" of the energy measuring module.
Since measured data is automatically collected in a buffer memory at 250 ms, detailed specific energy consumption management is also available.
*3.

The specific energy consumption is a numerical value displayed by "dividing energy consumption by production volume," which is one type of index that measures energy productivity. Improving this number leads to improved productivity and energy conservation.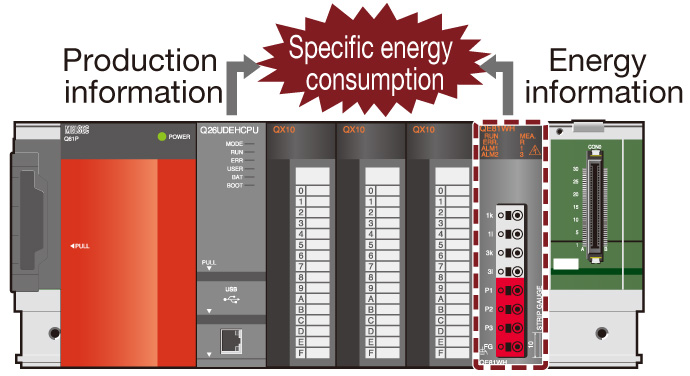 Allows for easy construction of a "visualization" system
Allows for easy graphic display of specific energy consumption with a GOT (HMI) installed on the control panel at the manufacturing site.
Combination with the "high-speed data logger module (QD81DL96)" allows specific energy consumption analysis to be easily performed with a personal computer.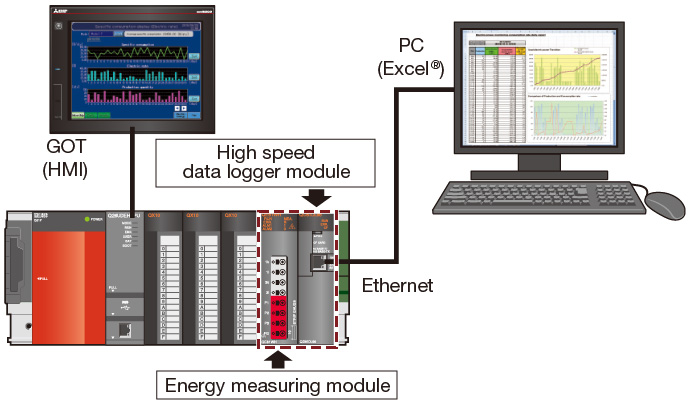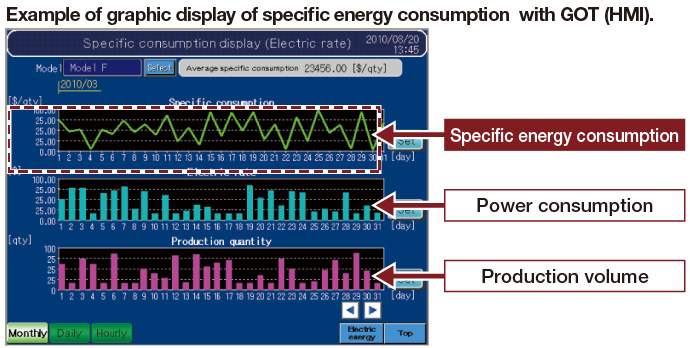 Lineup
Number of channels
Energy measuring
1
QE81WH
QE81WH4W
3
QE83WH4W
4
QE84WH