Controllers MELSEC-Q Series
Product features -Simple motion, Positioning-

Simple motion
Simple motion module for positioning control and synchronous control
Advanced control but simple use
Speed/torque control and synchronous control are supported in addition to the traditional positioning control. Using the "simple motion module setting tool", operations such as positioning setting, monitoring and debugging can be performed easily. In addition, data synchronized with the motion controller can be collected and displayed in waveform.
Simple motion module
CC-Link IE Field Network connection type
The simple motion module supports the general purpose CC-Link IE Field Network, with its flexible wiring. This module can be used as the CC-Link IE Field's master station*1 while retaining the simple motion module's functions. This realizes flexible networking supporting connection to various devices such as GOT(HMI), remote I/O, inverter, etc.
*1.

QD77GF4, QD77GF8, QD77GF16 master station transmission style can use the line type or star type. Up to 104 remote devices can be connected to one network.

*2.

The setting and diagnosis function using GX Works2 is disabled.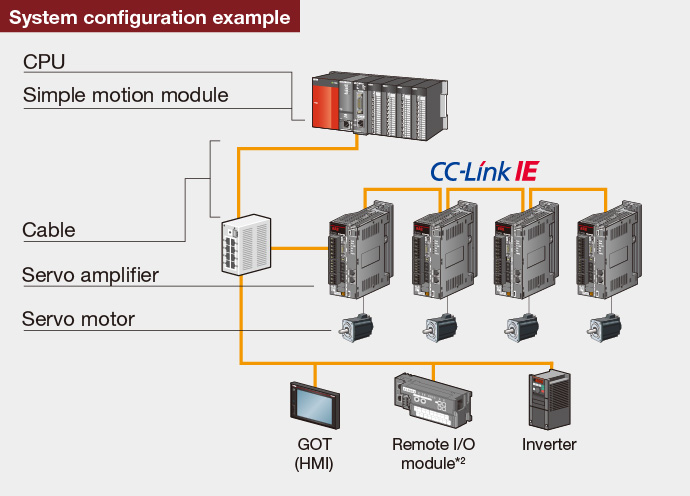 QD77GF4
QD77GF8
QD77GF16
Maximum number of control axes
4-axes
8-axes
16-axes
Servo amplifier connection method
CC-Link IE Field Network
Maximum distance between stations
100 m
Control system
PTP (Point to Point) control,
path control (both linear and arc can be set),
speed control, speed/position switching control,
position/speed switching control,
speed-torque control, synchronous control,
electronic cam control
Starting time
1-axis linear control

| Operation cycle | Starting time |
| --- | --- |
| 0.88 ms | 1.77 ms |
| 1.77 ms | 3.55 ms |
| 3.55 ms | 7.11 ms |

1-axis speed control
2-axis linear interpolation control
2-axis circular interpolation control
2-axis speed control
3-axis linear interpolation control
3-axis speed control
4-axis linear interpolation control
4-axis speed control
Simple motion module
SSCNETⅢ/H connection type
The SSCNETⅢ/H connection reduces wiring, enables connections of up to 100 m between stations, and easily supports absolute position settings. The upper limit LS, lower limit LS, and near-point dog signals can be input from the servo amplifier, thus greatly reducing wiring. In addition to positioning control and speed control, processes such as synchronous control and electronic cam control can be performed.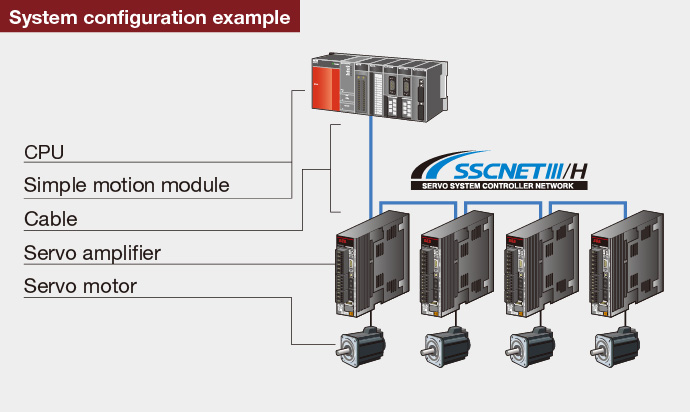 QD77MS2
QD77MS4
QD77MS16
Maximum number of control axes
2-axes
4-axes
16-axes
Servo amplifier connection method
SSCNETⅢ/H
Maximum distance between stations
100 m
Control system
PTP (Point to Point) control,
path control (both linear and arc can be set),
speed control, speed/position switching control,
position/speed switching control,
speed-torque control (press-fit control),
synchronous control, electronic cam control,
torque control, tightening & press-fit control
Starting time
1-axis linear control
0.88 ms
0.88 ms
1.77 ms
1-axis speed control
2-axis linear interpolation control
2-axis circular interpolation control
2-axis speed control
3-axis linear interpolation control
—
3-axis speed control
4-axis linear interpolation control
4-axis speed control
Lineup
| Number of axes | CC-Link IE Field | SSCNETⅢ/H |
| --- | --- | --- |
| 2 | — | QD77MS2 |
| 4 | QD77GF4 | QD77MS4 |
| 8 | QD77GF8 | — |
| 16 | QD77GF16 | QD77MS16 |