Geared Motors Right angle shaft type
It realizes low noise and miniaturization by adoption of super helicross gear.
These products can be assembled to be unified with a device. Moreover makes contributions for miniaturization of the device and time savings of the installation.

These motors comply with IE3 class of international standard IEC60034-30 (0.75kW or more).
GM-SSY, SSYP series
This series is the compact type that minimize the distance from the output shaft to the case end face as possible. Therefore these motors are possible to be installed easily in small-sized machines.

These motors are designed to allow both flange and face-mouting methods (0.1-2.2kW).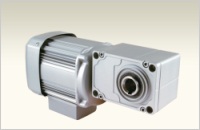 GM-SHY, SHYP series
This series complies with the load condition of service factor 1.4.

This series available for various installation methods: flange, face-mounting and foot-mounting.
And these are prepared for the wide range of gear ratios from 1/5 to 1/1440. (0.1-2.2kW)
GM-DYP series
This series is the large geared motor which is most suitable for transport of the conveyance of the heavy load.

It realizes high efficiency by adoption of spiral bevel gears.(11–37 kW).