Numerous functions and the extensive lineup of models are ready to support various systems.
Various network compatibility brings all the control in your hand
Compatibility to various open networks
Using a controller, the inverter can be controlled and monitored via various types of network.
 ● Ethernet communication


The CC-Link IE Field Network Basic is supported, so the network can be created easily. The inverter's status can be monitored and the parameters can be set via Internet. (MODBUS/TCP is also supported.)


The inverter has the CC-Link IE Field Network communication function, which enables immediate operation via the CC-Link IE Field Network.

 ● Other network communication
CC-Link, SSCNETIII (/H), DeviceNet™, PROFIBUS-DPV0 are supported using a compatible communication option. Other Ethernet-based communication such as the CC-Link IE Field Network communication and the FL remote communication can be also supported.
A function block (FB) programming for CC-Link communication is available for the MELSEC-Q/L series to create the inverter control sequence programs easily. (The FB library (collection of FB elements) can be downloaded from the Mitsubishi Electric FA Global Website.)
The standard model with an RS-485 interface (Mitsubishi inverter protocol, MODBUS® RTU protocol) enables communication with other devices without using a communication option.
Reduced tact time with functionality suited to the application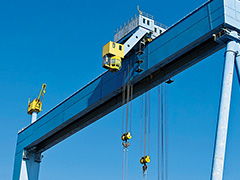 Anti-sway control
When an object is moved by a crane, swinging at the time of stopping is suppressed on the crane's transverse axis or traveling axis. This control cuts down the tact time and facilitates efficient operation.
Increased magnetic excitation deceleration
Deceleration time can be reduced without a brake resistor.
Tact time can be eliminated at conveyor lines, etc.
Selection of optimum capacity to suit the application
Multiple rating
Rated current and four different overload capacity ratings (SLD rating (super light duty), LD rating (light duty), ND rating (normal duty), HD rating (heavy duty)) can be selected with parameters. The optimum inverter can be selected to suit the application, and by selecting an inverter with SLD or LD rating, equipment size can be reduced when compared with the FR-A700 series. The HD rating is best suited for applications requiring low speed and high torque.
If using an inverter with capacity of 75K or higher, or motor with capacity of 75 kW or higher, always select and install the inverter based on the capacity of the motor with DC reactor.

PLC control with an inverter
Built-in PLC function in an inverter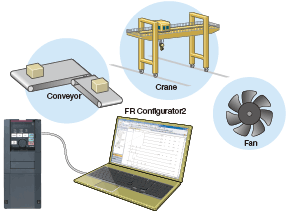 Parameters and setting frequency can be changed at the program.
Inverter control such as inverter operations triggered by input signals, signal output based on inverter operation status, and monitor output can be freely customized based on the machine specifications.
All machines can be controlled by the inverter alone, and control can also be dispersed.
Time-based operation is possible by using in combination with the real-time clock function (optional LCD operation panel (FR-LU08)).
The FR-A800-E enables communication between multiple inverters using the I/O devices and special registers of the PLC function, which can create a small-scale system by Ethernet using the inverter-to-inverter link function.