FR-E Series
Engineering software for further ease of operation
The work efficiency can be improved for each of the design, operation, and maintenance processes.
FR Configurator2 for further ease of operation


Using FR Configurator2, easy-to-use software assisting anything from setup to maintenance, much more useful functions are available for users.

| Function | Free trial version |
| --- | --- |
| Parameter list | ○ |
| Safety parameter setting(FR-E800-SCE) | ○ |
| Diagnosis | ○ |
| AI fault diagnosis | × |
| Graph | × |
| Batch monitor | × |
| Test operation | ○ |
| I/O terminal monitor | × |
A full functional trial version, which has the same functionality as the release version, is also offered for a limited period of 30 days.
| Function | Free trial version |
| --- | --- |
| Convert | △ |
| Developer | × |
| USB memory parameter copy file edit | × |
| Ethernet parameter setting | ○ |
| iQSS backup file conversion | ○ |
| Help | ○ |
○:Supported ×:Not supported △:To be supported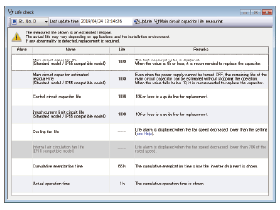 Life diagnosis check
Parts service life data is displayed in a dedicated window. A warning icon is shown in the alarm field of the parts recommended for replacement.
This can be used as a guideline to replace long life parts.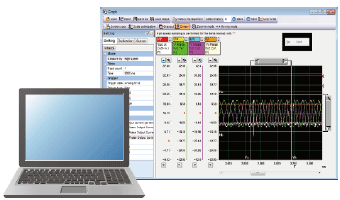 Graph function—trace function
Waveform graph data immediately before the protective function is activated can be automatically obtained.
Graph display and log analysis are available using the stored trace data.
Ethernet parameter setting
Inverters in the same subnet mask are automatically detected, supporting easy network setting.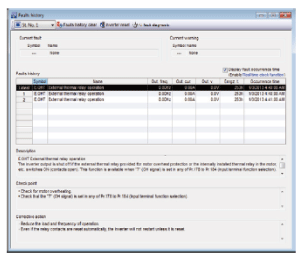 Diagnostics (Fault history)
Fault records in the inverter can be displayed. When the clock function or CC-Link IE TSN communication is used, the time of fault occurrence can be displayed, too. It is possible to check the occurrence time and the type of faults, which is helpful in identifying causes of faults.
Further facilitating operation with your smartphone
Setup information web page
Users can scan the QR code on the product to directly access the setup information.
Manuals, setup videos, and outline dimension drawings are available.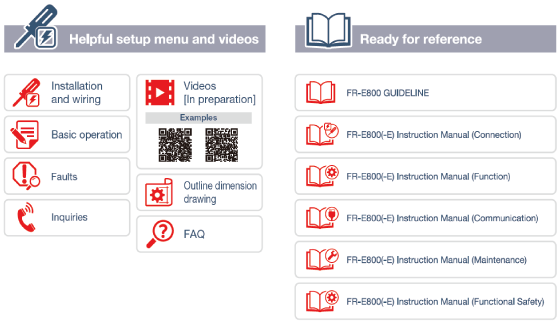 Wireless access with inverters from a remote location enables setting or changing of parameters, starting and stopping, and monitoring on the screen of mobile devices.
Users can easily monitor the inverter operation by checking data such as the running frequency and status of input and output terminals at a glance in one screen.
Wireless communication equipment must be prepared in the system that includes the inverter.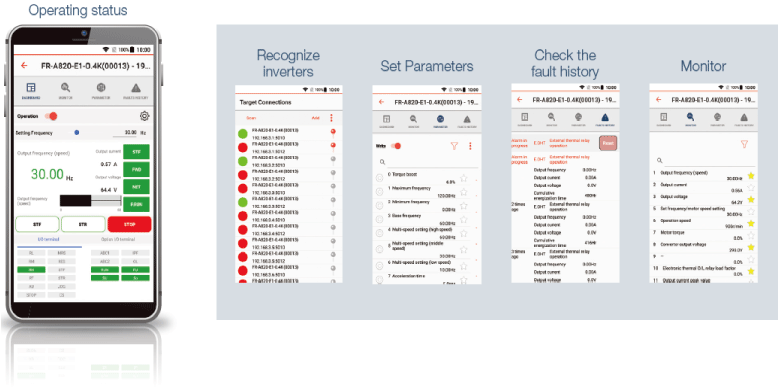 Download the free app now
Further facilitating operation with Drive System Sizing Software Motorizer


Users can select motors by entering data of mechanical configuration, specifications, and operating patterns.
Applicable combinations include inverters, sensorless servo drive units, and AC servo amplifiers.
The most suitable combination can be selected from the selection result. The software also supports multi-axis systems.
Twelve types of load mechanism such as a ball screw or a rack and pinion are selectable.
Selection is available by following the steps from 1 to 3.
When users include the power regeneration common converter or other applicable converter, the capacity of the converter can be selected at the same time.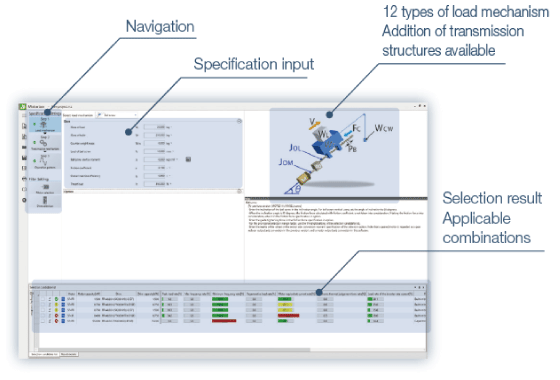 Further facilitating operation with the selection guide software


Advanced search for optimum inverters is available. Users can select inverters by entering data such as the motor capacity and current value and specifying specifications. The time spent on inverter selection can be reduced.

Further facilitating operation with Edgecross


Inverters and the system are integrated by maximizing the use of production data with edge computing, enabling solutions for various issues including productivity improvement and equipment maintenance.
Integration and processing of data sent from various devices and systems in production lines
Real-time feedback to production sites
Monitoring of field devices based on the know-how of production sites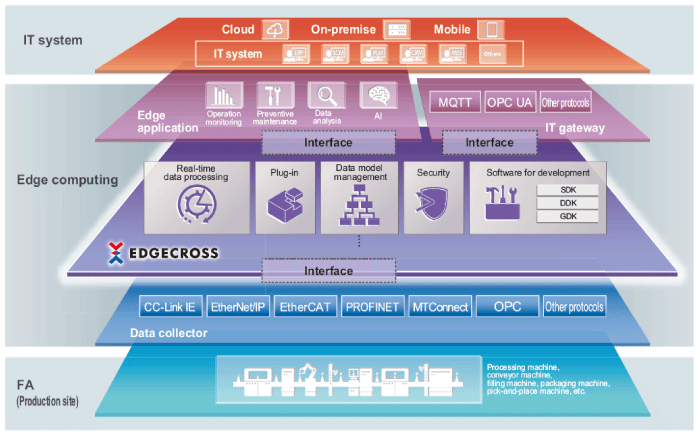 Further facilitating operation with GOT interaction functions



Enhanced compatibility between inverters and the GOT (human machine interface) brings various benefits to users.
Connection with the GOT2000 series can be established just by setting the station number. Other necessary settings are automatically done.
Less time spent on screen design work by importing sample screens
Various sample screens*1 are available to enable parameter setting, batch monitor, measurement of load characteristics and so on using the GOT.
Using sample screens enables easy startup of the system.
*1

:Sample screens are included in the GT Works3 package, or can be downloaded at Mitsubishi Electric FA Global Website.
Sample screens are available for FR-E800 and FR-E800-E. FR-E800-SCE is to be supported.

Improving work efficiency without using a computer
Users can use the GOT to set up, adjust, and perform maintenance for inverters without using a computer.

Immediate warning of system errors
By storing the data of relationship between the output frequency and the torque during normal inverter operation, users can judge whether the load is operating in normal condition. By outputting out-of-range warnings if applicable, users can detect mechanical faults or perform maintenance.

Reducing downtime by interacting with the GOT
Faults occurred in the inverter can be displayed on the GOT screen.
When a fault occurs, it is possible to identify the cause immediately, which contributes to downtime reduction.