From inverter startup to maintenance, this versatile software allows the user to specify settings easily at the computer.
Easy connection with a USB cable
A USB connector (Mini-B connector) is provided as standard. Easy connection to the computer without the need for a converter.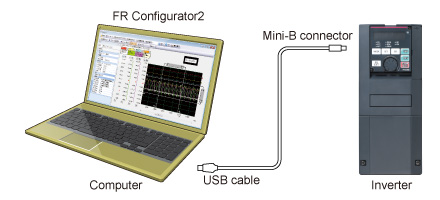 Intuitive user interface
Connected inverters are displayed in tree view format. Windows for each function can be accessed by changing the tab for maximum efficiency.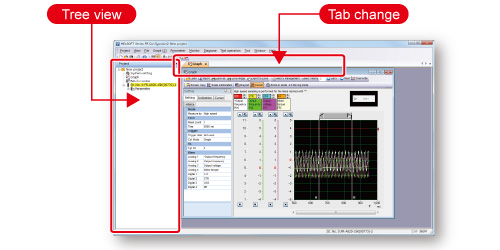 Work can be carried out away from the equipment using a USB memory device
By loading trace data and parameter settings copied to a USB memory device into FR Configurator2, analysis and adjustments can be carried out with ease away from the equipment.

Sequence control (Developer function)
The Developer function is used for creating sequence programs and writing them to the inverter to enable the use of the PLC function of the inverter.