Sophisticated Performance
High performance with the latest technologies
Our latest magnetic design and winding technologies enable high torque density. In addition, extremely smooth rotation is achieved by the minimized torque ripple.
Compact and low-profile design
Due to high level of structural design technology, compact and low-profile design is achieved. This design enables a small mounting space and a low center of gravity.
High-resolution absolute position encoder
The direct drive motor is equipped with a high-resolution absolute position encoder (1,000,000 to 4,000,000 pulses/rev) as standard. High-accuracy machine is achieved.
Hollow shaft diameter range: ø20 mm to 104 mm
The motor is equipped with a large hollow shaft resulting from using bearing and encoder with large diameter. It allows cables and air tubing to pass through.
Achieving High-Performance Machine
For higher machine performance
Suitable for low-speed and high-torque operations.
High-accuracy positioning is achieved because the motor is directly coupled to a load.
For easier use
Since mechanical transmission is no longer required, no backlash and no abrasion occurs, enabling smooth operation with less audible noise, clean system, and easy maintenance.
Less components are required for the system.
For flexible machine configurations
Simple, compact, and high-rigid machine is achieved.
Machine stability is enhanced due to the low-profile design and a low center of gravity.
The motor has an inner rotor with hollow shaft that allows cables and pipes to pass through.
[No mechanical transmission contributing to no warp or distortion.]

New Low-profile Direct Drive Motor TM-RG2M Series and TM-RU2M Series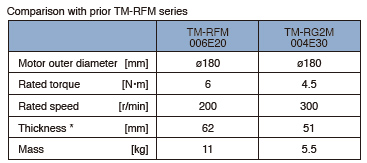 *A pilot for mounting is not included.
Low-profile direct drive motor TM-RG2M series and TM-RU2M series are launched in addition to the prior TM-RFM series. TM-RG2M004E30 (motor outer diameter: ø180 mm) has a thickness of 51 mm* decreased by 18% and a mass of 5.5 kg decreased by 50% compared with TM-RFM006E20.
In addition, the new series has a rated speed of 300 r/min. Its increased speed improves productivity. When high torque is needed or the load is heavy, TM-RFM series is recommended.
Flange Type (with Pilot) and Table Type (with Positioning Pin Holes)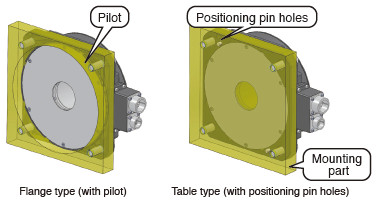 Two mounting types are selectable according to the mounting method to a machine.
TM-RG2M series: flange type (with pilot)
Position with the pilot and fix with bolts.
TM-RU2M series: table type (with positioning pin holes)
Position with the positioning pin holes and fix with bolts.
Increased Rated and Maximum Torques
The rated and maximum torques of TM-RG2M004E30/TM-RU2M004E30 are increased when a larger-capacity servo amplifier is combined.
For example, when MR-J4-40B(-RJ) servo amplifier is used instead of MR-J4-20B(-RJ), the rated and maximum torques are increased as follows: Rated torque: from 4.5 N·m to 6 N·m. Maximum torque: from 13.5 N·m to 18 N·m.