MELSERVO-JET Series Linear Servo Motors
Basic Performance
Maximum speed: 3 m/s (LM-H3 series), 6.5 m/s (LM-AJ series)
Maximum thrust range: 175 N to 1800 N. Small size and high thrust.
The linear servo motors are compatible with a variety of serial interface linear encoders. The linear encoder resolution ranges from 1 nm and up.
High-performance systems such as high-accuracy tandem synchronous control are achieved with CC-Link IE TSN.
The linear servo motors feature environmental resistance, designed for an altitude of 2000 m and an ambient temperature of up to 60 ℃. *1, 2
*1. Derate the speed/thrust when using the linear servo motors at an altitude exceeding 1000 m and at high ambient temperatures.
*2. LM-AJ series is designed for an altitude of 1000 m and an ambient temperature of up to 40 ℃.
Higher Machine Performance
For higher machine performance
Improved productivity due to high-speed driving part.
For easier use
The linear servo motors enable a simple and compact machine with high rigidity.
Smooth operation and clean systems are achieved.
For flexible machine configurations
Multi-head and tandem systems are easily configured.
The linear servo motors are suitable for long-stroke applications.
[Offers more advantage than conventional ball screw driving systems]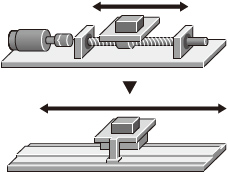 Ideal for Multi-Head Systems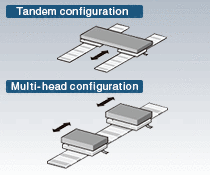 The linear servo motors configured in tandem are suitable for large systems that require highly accurate synchronous operation between two axes.
Multi-head systems enable control of two motor coils independently, thereby simplifying machine mechanisms. This system is suitable for machines that require a short cycle time.
LM-H3 Series / LM-AJ Series
LM-H3 Series / LM-AJ Series Structure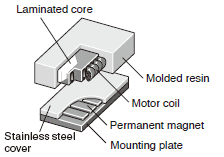 The motor primary side consists of laminated core and motor coil. The coil is inserted into the slots on the core. The entire section is molded with resin.
The secondary side consists of permanent magnets and a mounting plate. The permanent magnets are precisely positioned and fixed on the mounting plate, and then covered with stainless steel plate.