What is Drive System Sizing Software Motorizer?
Drive System Sizing Software Motorizer is software that enables you to select the most suitable servo motors for your machine just by setting the machine configuration/specifications and the operation patterns. This software offers a wide range of selectable drive options including sensorless servo and inverters in addition to AC servo.
The software is available for free download. Contact your local sales office for more details.
Load Mechanism
Select a load mechanism from 13 common types.
Flexibly set an inclination angle of the load mechanisms, such as ball screws, rack and pinions, and conveyors.
[Ball screw]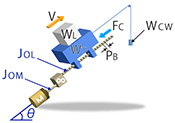 [Rack and pinion]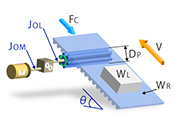 [Roll feed]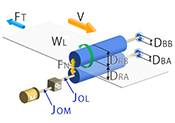 [Rotary table]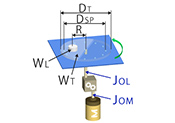 [Cart]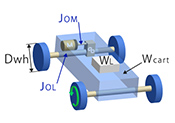 [Elevator/hoist]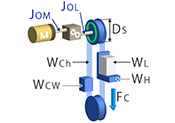 [Conveyor]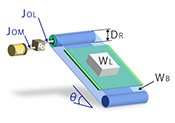 [Fan]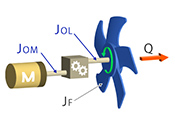 [Pump]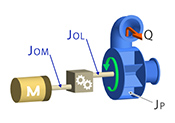 [Crank]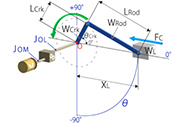 [Generic (Rotary)]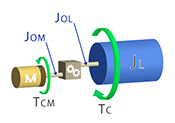 [Generic (Linear)]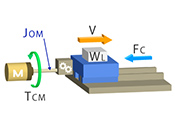 [Linear servo]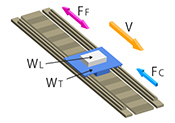 Selection Procedures
Follow the Step 1 to 3 on the left side.
For the items with

, the input support function is available.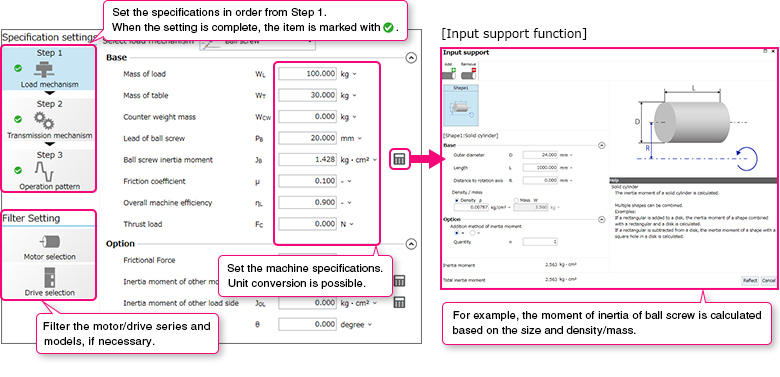 Setting Operation Patterns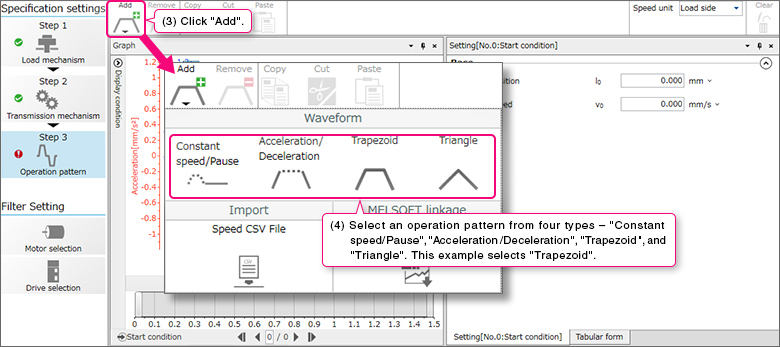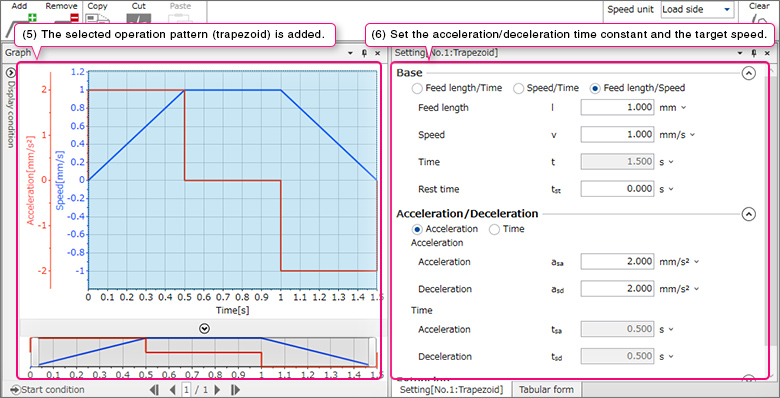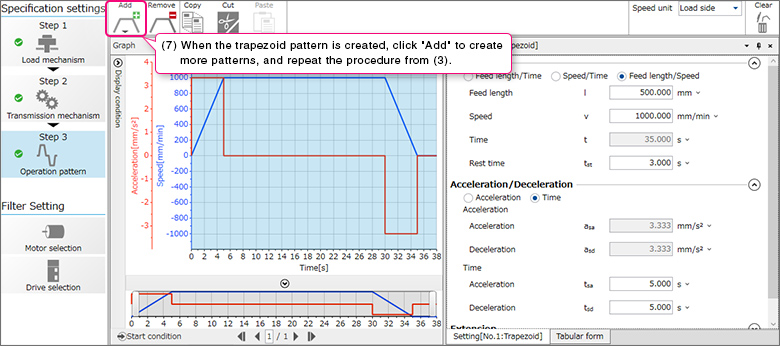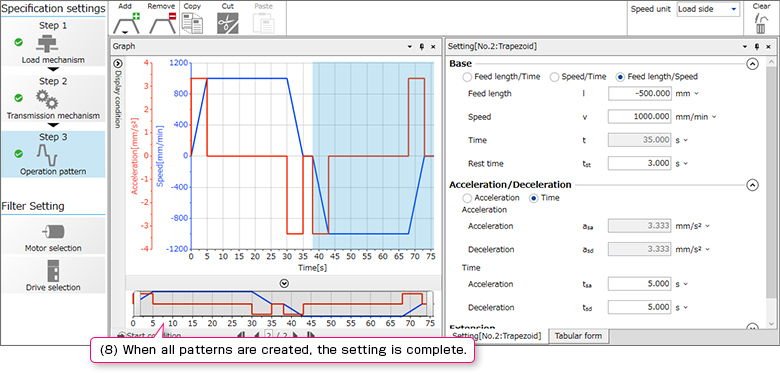 Sizing Results
When Steps 1 to 3 are complete, the selection result displays multiple possible options.
The result list shows multiple items at once such as motor and drive models, drive capacities, and calculation results of effective load ratio and moment of inertia.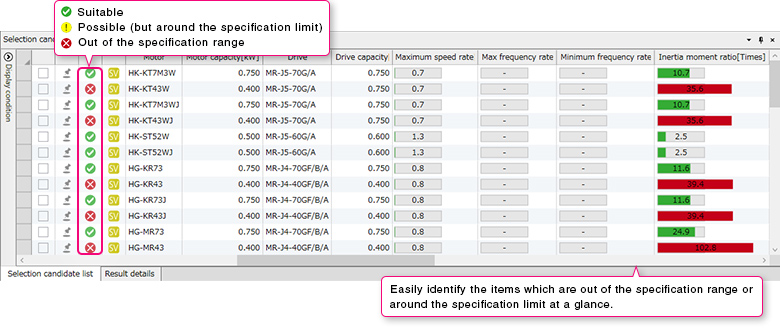 Click Display condition tab, and control the items displayed in the list by switching ON and OFF.

Tick a box, and click Result details tab to see the calculation results and restrictions, etc.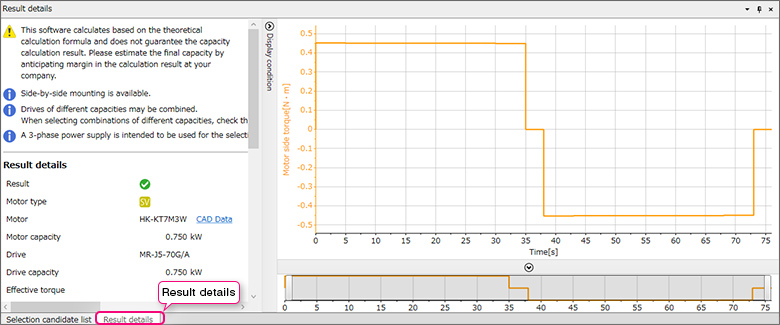 Multi-Axis System
When sizing a multi-axis system with a simple converter or a power regeneration common converter, the sizing result includes details such as the converter capacity and the model.

Specifications and Operating Environment
Specifications
Item
Description
Types of motor/drive
Servo, Inverter, Sensorless servo
Types of load mechanism
Ball screw, Rack and pinion, Roll feed, Rotary table, Cart, Elevator/Hoist, Conveyor, Fan, Pump, Crank,
Generic (Rotary), Generic (Linear), Linear servo
Types of transmission mechanism
Coupling, External gear reducer, V belt and pulley, Toothed belt/roller chain
Operation pattern
Constant speed/Pause, Acceleration/Deceleration, Trapezoid, Triangle, Speed CSV File, MELSOFT GX LogViewer file
Types of input support of moment of inertia calculation function
Solid cylinder, Hollow cylinder, Disk, Rectangular solid, Truncated cone, Sphere, Generic
Sizing results
Result, Motor type, Power supply voltage, Motor, Motor capacity, Drive, Drive capacity, Effective torque, Torque effective load rate, Peak torque, Peak load rate, Effective torque at stop, Effective load rate at stop, Motor output, Motor output rate, Maximum speed, Maximum speed rate, Maximum load inertia moment, Inertia moment ratio, Regenerative power, Regenerative load ratio, Regenerative option, Maximally increased torque, Rated speed, Brake, Oil seal, Structure specification, Graph of Motor side speed/Motor side torque/Motor output
Printing of output of results
Prints load mechanism, transmission mechanism, operation pattern, and sizing results.
Data saving
Load mechanism, transmission mechanism, operation pattern, motor selection, drive selection, and sizing results are saved with a file name.
Operating Environment (Note 1, 2)
Item
Description
OS
Microsoft® Windows® 11 (64-bit)
Microsoft® Windows® 10 (64-bit/32-bit)
.NET Framework
.NET Framework 4.6 or later
CPU
(recommended)
Windows® 11
2 or more cores on a compatible 64-bit processor or System on a Chip (SoC)
Other than Windows® 11
Desktop PC: Intel® Celeron® processor 2.4 GHz or more
Laptop PC: Intel® Pentium® processor 1.9 GHz or more
Memory
(recommended)
Windows® 11
4 GB or more (64-bit OS)
Other than Windows® 11
1 GB or more (32-bit OS)
2 GB or more (64-bit OS)
Free hard disk space
For installation: 1 GB or more free hard disk capacity
For operation: 512 MB or more free virtual memory capacity
Monitor
Resolution 1024 × 768 or more (XGA)
Compatible with above personal computers
Notes: 1. This software may not run correctly on some personal computers.
2. Surrogate pair characters and environment dependent characters are not available.