Workbench
Project management tool
Workbench is a project management tool for all MC Works64 related products. Various tools such as GraphWorX64 and AlarmWorX64, which are applications of the MC Works64 suit, can be managed in the centralized environment. Workbench is featuring a project tree display and drag-and-drop operations, allowing construction of visual and intuitive applications. Setting data of each tool can be output in Excel®, CSV, XML format that is editable with familiar Windows® applications. Edited data can be imported and the changed settings can be reflected to each tool. By supporting both local computer and remote computer access, Workbench provides a highly flexible screen development environment.

Pack and Go function of Workbench executes migration of projects between computers. Setting of whole project (not per file), restoration per database unit, encryption, and password-protected file creation are supported.

MC AppBuilder
Design support tool
MC AppBuilder is an engineering support tool that enables easier construction of the plant system where MC Works64 and MELSEC programmable controllers are used. MC AppBuilder is bundled with MC Works64 as standard. MC AppBuilder can be started from Workbench-SL. In addition, design contents sharable according to device types are managed as a template*1 in the library. Assigning templates corresponding to devices in the system tree at designing reduces engineering time. Templates provided by manufacturers as well as customized templates can be registered and utilized.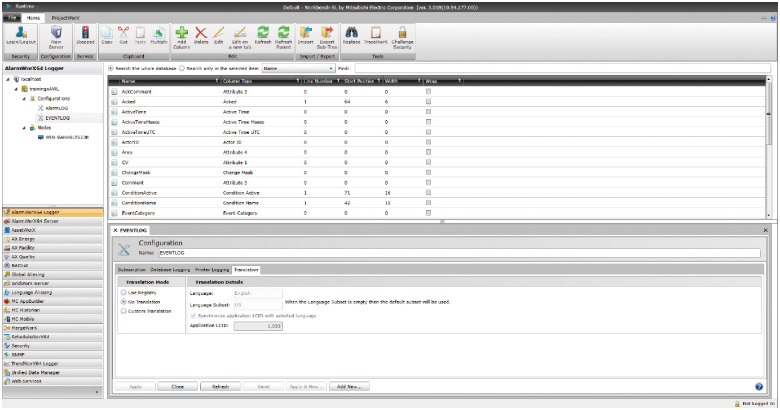 *1.
Templates include graphic part information such as symbols and faceplates, control program information such as function blocks, and various interface information (alarm, trend setting).
Process program coordination function
MC AppBuilder generates faceplate templates and device/tag assignment information for the OPC server in coordination with GX Works3 and PX Developer, contributing to engineering time reduction.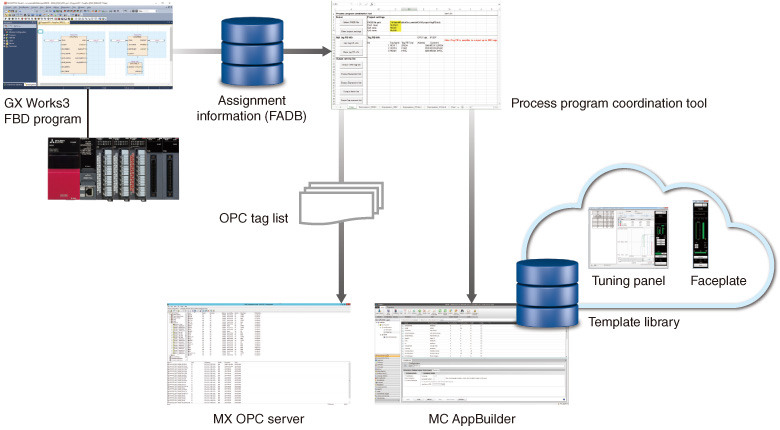 BridgeWorX64
Data handling
Data, files, and web services can be handled by connecting to a variety of data source, such as OPC and SQL, MES and ERP, and using a graphical process design tool called transaction flow diagram. Large volumes of data such as logging from database to database can be handled also.

Workflow
Script processing using flowchart
By using Workflow, data that was previously processed with scripts can now be executed with graphical process flows similar to SFC. Processes such as data recording, alarm notification, and report outputs can be executed with the defined process flows.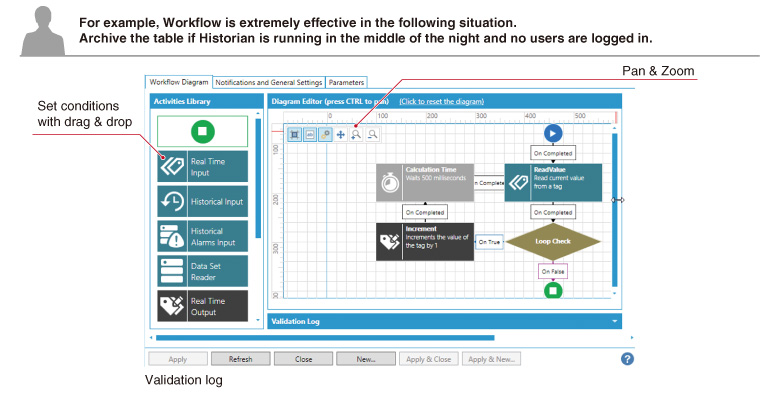 [Differences between BridgeWorX64 and Workflow]
The main difference is that BridgeWorX can handle large volumes of data, such as when reading the database or logging into the database. On the other hand, Workflow can successively execute relatively light processes (output to the DA Tag, etc.) according to the set scan rate.