MC Historian
High-speed/highly reliable data collection
High performance and highly reliable data logger can collect 100,000 points/s*1 (standard trend collection performance of MC Works64 is 20,000 points/s*1). Computing results can be logged using a calculating formula. Log capacity reduction using high-pressure function (Swinging Door algorithm) enables a long-term logging. MC Historian stores data in the original database not in SQL Server®. A simplified version of MC Historian called MC Historian Express is available in both MC Works64 and MC Mobile packages.
*1.
Depends on the system configuration.
Comparison of product package functions
Function/specifications
MC Historian SD/R
(option package)
MC Historian Express
(MC Works64 standard package)
High speed logging
●
●
Calculation logging
●
-
High pressure function
●
-
Saving files in HDD*2
●
●
Redundant
●*3
-
Distributed processing
●*3
-
Maximum number of tags
-
5000*4
Tag counting method
Counted as MC Historian tag
Counted as MC Works64 tag
*2.
While MC Works64 saves logs in Microsoft
®
SQL Server
®
Express with 10GB limit, MC Historian saves logs directly in HDD enabling a long-term data storage and large amounts of data logging.
*3.
Supported by MC Historian R only.
Comparison of redundant functions
Function/specifications
Redundancy with MC Works64
server license (two licenses)
including MC Historian R
Redundancy with MC Works64
server license (two licenses)
Redundant monitoring system (screen)
●
●
Redundant event/alarm
●
●
Redundant logging
●*5
-
Automatic server switching (manual switching is enabled)
●
●
Play back function*6
●
-
*5.
MC Historian has two different redundant patterns.
*6.
Retains data for a certain period of time when communications with the data storage are interrupted, then transfers log data to the data storage after communication recovery.
EarthWorX
Wide-area monitoring
3D geographical information can be downloaded from the Internet and shown on the screen via EarthWorX. In addition, by assigning each tile of a smart pin with the status of a production line or piece of equipment, then arranging the smart pins on the map, the asset state can be easily visible.

IoTWorX
IoT communication function for Cloud
IoTWorX communicates with Microsoft® Azure® general service: IoT Hub, allowing configuring IoT environment easily.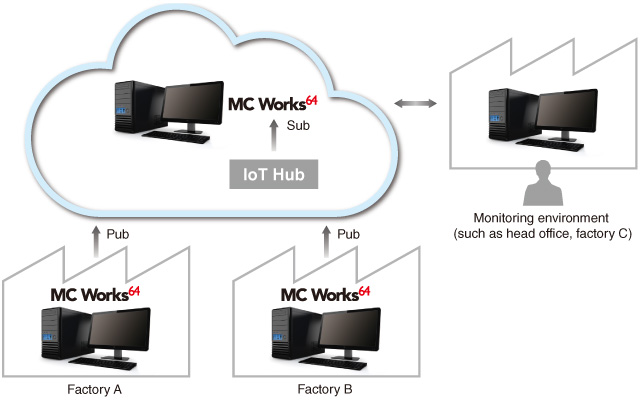 ReportWorX64
Report output function
Various types of reports including: daily, weekly, monthly, and yearly reports can be created using OPC or BACnet® real-time data, or from various databases (TrendWorX64, AlarmWorX64, MC Historian). This software can create report templates using Microsoft® Excel®, and output them in Excel®, HTML, or PDF format. MC Works64 includes the simplified version of ReportWorX Express*7, however, use of ReportWorX64 is recommended.

*7.
ReportWorX64 and ReportWorX Express are compatible with the 32-bit version and 64-bit version of Microsoft
®
Excel
®
2010 or later.
The differences of ReportWorX64 and ReportWorX Express are given below.
ReportWorX64: A variety of reports can be created from the database, and automatically saved. ReportWorX Express: Reports are created manually by selecting a random range (period) and the data in Excel
®
.