Basic functions of MC Works64
Monitoring from the whole process system to devices with powerful functions
GraphWorX64
Graphic monitoring function
GraphWorX64 has extensive standard libraries. A wide variety of symbols are available (1461 symbols in 2D and 235 symbols in 3D), realizing a professional and user-friendly monitoring screen. Zoom in/zoom out to automatically show or hide objects, enabling efficient visualization of information.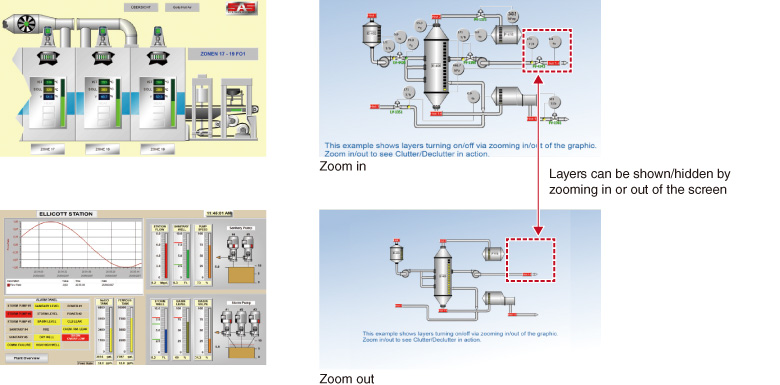 By using the built-in 3D functionality, it is possible to create an immersive monitoring screen. With 3D, the user is able to change the screen's viewpoint freely, up to 360 degrees, allowing for intuitive monitoring. It is also possible to zoom into problematic areas when an alarm occurs, enabling the confirmation of alarms intuitively.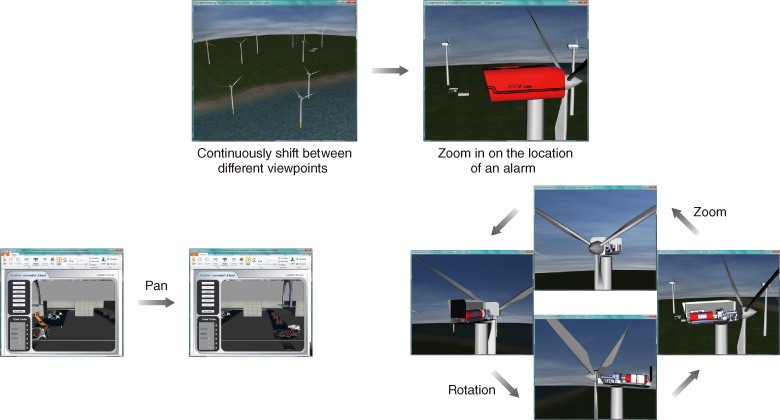 TrendWorX64
Trend display
Several trend graphs can be displayed simultaneously, providing quick understanding of the entire system operation state. In addition, operations such as pausing operation, exporting data, adding pens, and changing the scale are possible.
By using the new data diagram function, a data set can be color-coded as a heat map to make data easily visible, contributing to quick analysis.

AlarmWorX64
Alarm & event
Monitor process status and notify alarms. Real-time or historical alarm is supported. In addition, combining with AssetWorX, number of alarms per production line/equipment and breakdown of alarm status can be easily checked.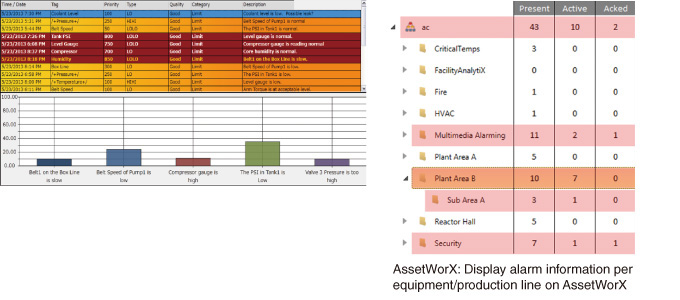 Camera control
View IP camera stream
The camera control can be used with both GraphWorX64 and MC Mobile screens to stream data from an IP camera. RTSP and MJPEG protocols for streaming are supported. Equipment failure during production can be checked from the office instantaneously, allowing countermeasures to be taken for safe and reliable system operation.

AssetWorX
Asset management by hierarchical tree structure
AssetWorX is an asset management compliant with international standard ISA-95, which defines equipment hierarchy models for physical assets in manufacturing. Assigning a model to the tree according to the actual structure of the enterprise, company/process/factory/line etc. makes it easy to comprehend data at different levels. This can reduce the time taken for decision making and operating the system.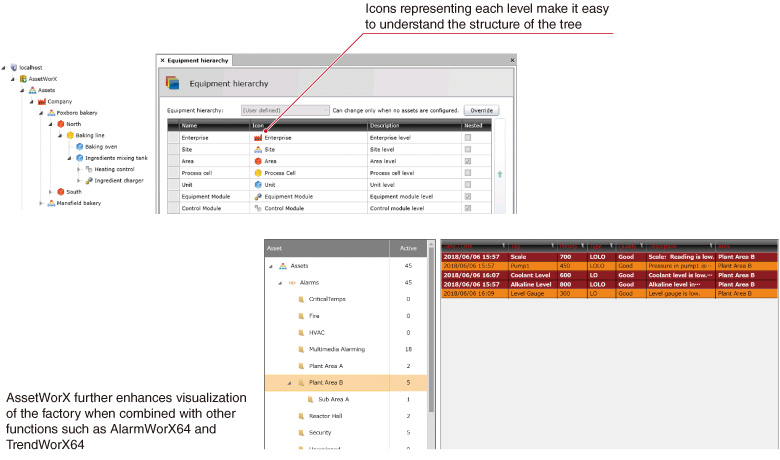 Universal Connectivity
Open connectivity
MC Works64 supports several protocols using the MX OPC Server, allowing connection with various Mitsubishi Electric factory automation products. By using the OPC server manufactured by partner, Takebishi Corporation, other company's controllers can be connected.
MX OPC UA server
Support OPC UA functionality.
Monitor and operate equipment with OPC UA
Support the auto-generation for the setting of OPC UA Server in MC AppBuilder
MX OPC server
Communication software supporting MELSEC programmable controller.
Support DNP3.0, IEC60870-5
MX OPC server supports DNP3.0 or IEC60870-5
Monitor and operate equipment supporting DNP3.0 or IEC60870-5
[Open communication protocol used for DNP3.0/power and water supply facility]
[Open communication protocol used for IEC60870-5/power industry]
Supported products
Model
MX OPC
UA server
MX OPC
server
MELSEC iQ-R Series CPU
●
●
MELSEC iQ-R Series motion CPU
●
●
MELSEC iQ-F Series CPU
●
●
MELSEC-Q Series CPU
●
●
MELSEC-Q Series motion CPU
●
●
MELSEC-L Series CPU
●
●
MELSEC-F Series CPU
●
●
MELSEC-A Series CPU
-
-
Energy-saving Data Collection Server
(EcoWebserver III)
-
●
Air-conditioning controller
(G-150AD)
-
●
[Supported communication protocol]
MODBUS®, DNP3*1, IEC60870*1
[Supported network]
Serial, Ethernet, CC-Link IE Control Network,
CC-Link IE Field Network, MELSECNET/H,
MELSECNET/10, CC-Link
*1.
It is not supported by MX OPC UA Server.
Partner products
Device explorer OPC server
Communication software supporting programmable controller CPU, C Controller, motion CPU, and GOT (HMI). Can access production information via various networks such as Ethernet and CC-Link.
[Compatible models]
MELSEC iQ-R/iQ-F/Q/L/QnA/A/F Series,
GOT (HMI) 2000 Series,
CNC numerical controller M700V/M70V Series,
energy saving data collection server EcoServer3,
energy saving demand monitoring server E-Energy,
energy measuring module EcoMonitorLight,
smart meter M5CM-RAL/RL type
[Supported network]
Ethernet, serial, CC-Link, CC-Link IE, MELSECNET/H
[Area supported]
Japan, China, Asia (except Japan and China), Europe, North America, Middle America, Africa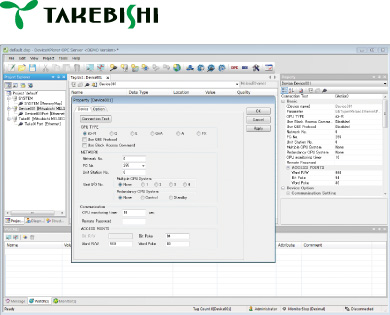 Takebishi Corporation
29, Mameda-cho, Nishi-kyogoku, Ukyo-ku, Kyoto 615-8501, Japan
TEL: +81-75-325-2171 URL: https://www.faweb.net/en/

Open protocol
Can access data from anywhere
MC Works64 supports various communications such as OPC DA/AE/HDA/UA, BACnet® (compliant with ANSI ASHRAE135-2008), and databases. Different systems in multiple sites and different types of devices can be easily connected. MC Works64 Web Services can obtain weather data utilizing Web Services supporting SOAP or REST on the Internet.

AlarmWorX64
Multimedia (MMX) Message notification
Send notifications containing real-time alarm information by email or SMS. Messages can include: alarm occurrence date, alarm type, and alarm name. AlertWorX, a standard function of MC Works64, has simple settings to send alarm notifications to a single address. Using AlarmWorX64 Multimedia (MMX) enables more advanced settings, such as categorizing notification addresses into groups and adding shift patterns. For example, an operator group and engineering group could be created and assigned to different types of alarm. The target addresses can also be switched automatically according to the current shift pattern.