MC Mobile
Mobile monitoring
MC Mobile is a mobile application that enables monitoring with any mobile device. Personnel can access and monitor important data from anywhere on any device. MC Mobile is compatible with mobile terminals using Microsoft® (Windows Phone®, Surface®), Apple® (iPhone®, iPad®), Android™ (phone, tablet computer), or HTML5.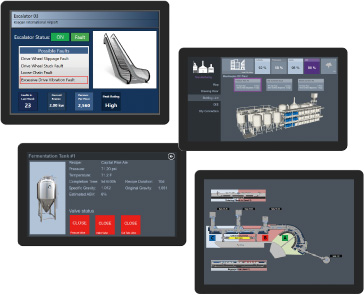 MC Mobile now supports the latest in Augmented Reality technology. The Microsoft® HoloLens® is a wearable device that displays monitoring screens in an augmented space, enabling intuitive operation via a user's real-world field of vision.

In addition, MC Mobile now supports Control of AX Facility, GridWorX, and ScheduleWorX64. Many functions are now available on MC mobile, thereby increasing usability and visibility.

KPIWorX
Performance indicator display
KPIWorX is an application for configuring self-service dashboards. An original dashboard can be created by arranging widgets (device symbols, alarms, trends etc.) on the screen as desired during monitoring, supporting intuitive operation by displaying KPI*1 and OEE*2 information on a smart phone or tablet computer. Widgets such as the following charts and graphs related to business intelligence (BI) useful for management decision making are now available, helping to configure a visually rich screen with improved visibility.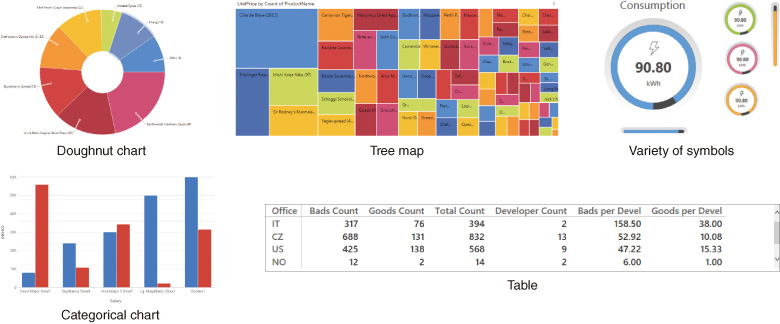 *1.
KPI: Key Performance Indicator
*2.
OEE: Overall Equipment Effectiveness
WebHMI
Web monitoring
WebHMI uses the MC Works64 server as a web server, enabling monitoring and project editing from the web client (a computer for MC Works64 client). This allows operators to use most of MC Works64 functions from different web browsers. WebHMI can be used without installing software on client computers; setup of client computers is easy.