Motor Starters features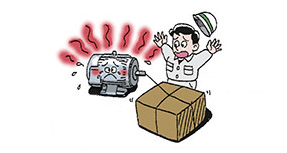 Usable in general applications such as motor starting,stopping,and burnout protection.
When an overcurrent continues by flow due to motor overload, constraint, it is detected with a thermal relay before the motor burnout.
MS-T Series

Down-sizing
10A frame model is over 16% smaller with a width of just 36mm!!
There is a saying that "every bit helps" and now with the industries smallest* general purpose Magnetic Contactor in its class, customers are able to more easily down-size their boards than ever before.
For AC-operated 10A frame class general-purpose Magnetic Contactor (based on survey conducted by Mitsubishi dated September 2016)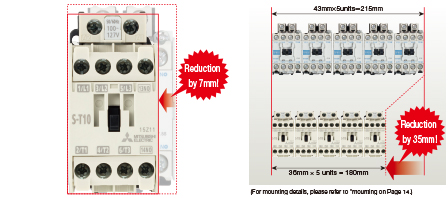 Standardization
New integrated terminal covers (Target frame : 10A to 50A frame)
The perennial issues of remembering to order the terminal covers, fitting them correctly or loosing them in the process are challenges of the past.
The integrated terminal cover system means they are always there, on the Magnetic Contactor or its Auxiliary contact, ready to be used.

Reduce your coil inventory by up to 50% (Target frame : 10A to 35A frame)
The 14 types of operation coil ratings available with the SN Series have been halved to 8 types with that increasing the applicable voltage range.
Users can reduce their inventory, and by integrating the types of coils manufactured, a shorter delivery can be realized.

Safety & Quality
Terminal cover with finger protection function (Target frame : 10A to 50A frames)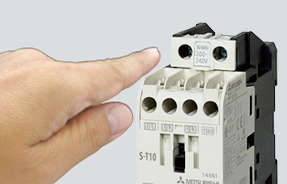 In addition to the Magnetic Contactor, a terminal cover has been provided as a standard for the thermal, magnetic relay and auxiliary contact unit options. This realizes a finger protection function that complies with the DIN and VDE Standards, prevents electric shocks, and increases safety during maintenance and inspections.
[Finger Protection]
In the provisions regarding worker safety and accident protection during use of low-voltage switchgear and controlgear assemblies set forth with DIN EN 50274/VDE 0660 Teil 514, the range for providing protection against contact of live sections is divided into "Finger Safe (preventing finger contact)" and "Back of hand safe (protecting back of hand contact), and standards are provided. The MS-T Series terminal cover satisfies the requirements of these provisions.
Smart wiring
Smart design means Smart wiring (Target frame : 10A to 50A frames)
The integrated terminal covers have an additional benefit in that they act as a guide to improve wiring efficiency but also retain the terminal screw in place: no mislaying the screw, no dropping it or having trouble reinserting it in to the terminal block just fast efficient wiring. Fast wiring terminals (model name with suffix "BC" ) are also available to further improve wiring efficiency, workability and hence productivity.

MS-N Series (125A to 800A frames)
Finger Protection Compatible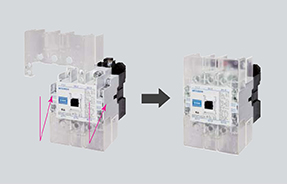 An easy-to-install terminal cover, which lays importance on further safety and is compatible with finger protection, has been prepared.
The arc blowoff direction has been changed to further improve safety and space conservation
A new extinguishing structure, which eliminates the blow off of hot gas (arc) to the front (direction to door of control panel) when the current is cutoff has been incorporated.

Unified design for N series
The design has been unified for the MS-N series.
The front face of the product is a bright white color,making the inside of the panel brighter and providing a clean image.

DC Electromagnet with AC Operation (N125 to N800, T65 to T100 frames)
-Lower Power Consumption
Coil power consumption is greatly low so MS-N Series contactors can be controlled by almost any type of relay, even small output relays of programmable controllers.
-Less Noise nor Surge from Coil
When switching a coil, the energy will be desipated within internal circuit of electromagnet
-Humming Completely Eliminated
DC excitation does not cause humming so operation is quiet.
-Contactor Coils Have Ultra-Wide Range of Ratings
The voltage rating ranges is widened and the coil type are reduced to one-third.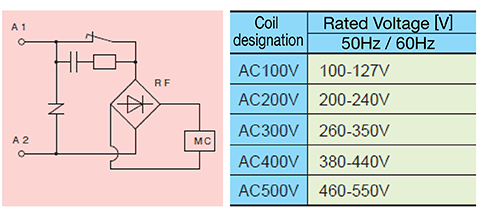 Global Standard
Complies with main International Standards
In addition to compliance with the main International Standards including IEC, JIS, UL, CE, and CCC, we plan to acquire compliance with Shipping Standards and other International Standards.
We hope to contribute to your business expansions overseas.

Various varistions
| Standard (AC operated) | DC operated | Reversing | Mechanically latched | Delay open type |
| --- | --- | --- | --- | --- |
| | | | | |