Relays features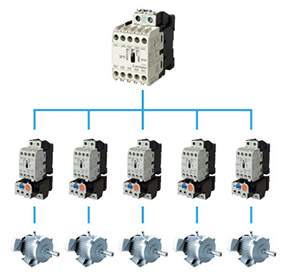 It can be used as signal contact for the control circuit.
Relay with high contact reliability with multiple contacts on one unit.
MS-T Series

High contact reliability

The full adoption of twin contacts improves the contact reliability.
New integrated terminal covers
The perennial issues of remembering to order the terminal covers, fitting them correctly or loosing them in the process are challenges of the past.
The integrated terminal cover system means they are always there, on the Magnetic Contactor or its Auxiliary contact, ready to be used.

Smart design means Smart wiring
The integrated terminal covers have an additional benefit in that they act as a guide to improve wiring efficiency but also retain the terminal screw in place: no mislaying the screw, no dropping it or having trouble reinserting it in to the terminal block just fast efficient wiring.
Fast wiring terminals (model name with suffix "BC" ) are also available to further improve wiring efficiency, workability and hence productivity.

Various variations
| Standard (AC operated) | DC operated | Delay open type |
| --- | --- | --- |
| | | |