Motor Protection Relays features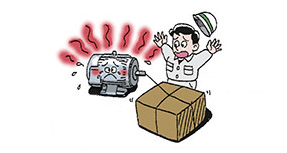 Usable in general applications such as motor starting,stopping,and burnout protection. When an overcurrent continues by flow due to motor overload, constraint, it is detected with a thermal relay before the motor burnout.
MS-T Series
New integrated terminal covers (Target frame : T18 to T50 frame)
The perennial issues of remembering to order the terminal covers, fitting them correctly or loosing them in the process are challenges of the past.
The integrated terminal cover system means they are always there, on the Magnetic Contactor or its Auxiliary contact, ready to be used.

Terminal cover with finger protection function (Target frame : T18 to T50 frame)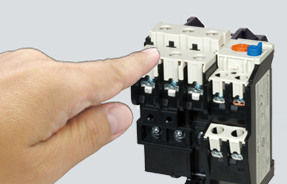 In addition to the Magnetic Contactor, a terminal cover has been provided as a standard for the thermal, magnetic relay and auxiliary contact unit options. This realizes a finger protection function that complies with the DIN and VDE Standards, prevents electric shocks, and increases safety during maintenance and inspections.
[Finger Protection]
In the provisions regarding worker safety and accident protection during use of low-voltage switchgear and controlgear assemblies set forth with DIN EN 50274/VDE 0660 Teil 514, the range for providing protection against contact of live sections is divided into "Finger Safe (preventing finger contact)" and "Back of hand safe (protecting back of hand contact), and standards are provided. The MS-T Series terminal cover satisfies the requirements of these provisions.
Smart design means Smart wiring(Target frame : T18 to T50 frame)
The integrated terminal covers have an additional benefit in that they act as a guide to improve wiring efficiency but also retain the terminal screw in place: no mislaying the screw, no dropping it or having trouble reinserting it in to the terminal block just fast efficient wiring. Fast wiring terminals (model name with suffix "BC" ) are also available to further improve wiring efficiency, workability and hence productivity.

MS-N Series
With Independent 1a1b contact
-Applicable to PLC (sequencer) input signal.
-Make and break contacts with different voltage can be used.
Complies with main international standards
-In addition to compliance with the main international standards including IEC, JIS, UL, CE and CCC.
Trip-free reset bar
Choose between automatic and manual reset. Also features tripfree reset bar mechanism.
-Display and External Trip Mechanism
-Switching Between Automatic and Manual Reset
Various variations
| With phase failure protection | With saturable reactors | Quick trip type |
| --- | --- | --- |
| | | |