Die-sinking Electrical Discharge Machines
A variety of models are available for compact high-precision machining to large high-production machining applications.
Mitsubishi Electric helps improve our customers' productivity with total solutions covering machine, power supply, adaptive control, automated systems and networks.
Die-sinking Electrical Discharge Machines EA-PS Series
High-grade model compatible for various uses
■Machining Accuracy
±3µm pitch accuracy achieved
XY-axis linear scale standard equipment
Standard function of "Thermal buster" (in-house original technology)
■Productivity
Machining speed is up to 40% faster with the combination of highly accelerated (1.6G) jump control and aduptive control "IDPM".
New finishing circuit LLTX Mold cleaning interval is extended with improved mold release.
■Workability / Operability
3-sided automatic elevation tank standardized
Setup time reduced by faster jog operations speed
ESPERADVANCE - Easy Programming and machining condition search -
Die-sinking Electrical Discharge Machines EA ADVANCE Series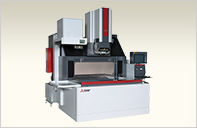 High-class model pursuing accuracy and productivity
■Machining Accuracy
Thermal displacement compensation system to be reduced thermal displacement caused by temperature changes
Highly rigid and accurate built-in C-axis, which increased permission moment of inertial
■Productivity
IDPM reduces graphite electrode wear up to 80%
Machining speed is improved up to 60% with using IDPM and copper-graphite electrode
■Workability / Operability
Machining conditions and programs suitable for various shapes can be created (Shape Expert)
3-sided automatic elevation tank standardized
Reverse wash function is effective in achieving high performance over a long time
■Automation compatibility
Continuously run multiple programs on a schedule
Two kinds of ATC can be selected as LS type and MVH type
Die-sinking Electrical Discharge Machines EA-S Series
Supports various machining needs in pursuit of higher productivity
■Highly evolved technology -High-speed machining is realized using advanced machining control-
Machining adaptive control: IDPM
Machining stabilizing jump control: SS jump 5
■Easy-to-use control (ADVANCE control unit) -Ergonomic design-
Programming (ESPERADVANCE)
Electrode and workpiece measurements
Automation
Die-sinking Electrical Discharge Machines EA Series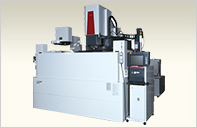 Standard model pursuing high performance and high productivity
■Machining Accuracy
Highly rigid and accurate built-in C-axis, which increased permission moment of inertial
■Productivity
IDPM reduces graphite electrode wear up to 80%
Machining speed is improved up to 60% with using IDPM and copper-graphite electrode
■Workability / Operability
Machining conditions and programs suitable for various shapes can be created (Shape Expert)
Reverse wash function is effective in achieving high performance over a long time
■Automation compatibility
Continuously run multiple programs on a schedule