Data Center
Proposals for power distribution/receiving and server room power source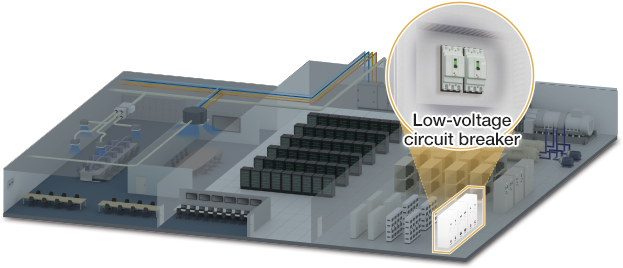 Do you have any requests like…?
Want to use highly reliable breaker and switch
Solution :


Introduce highly reliable low-voltage circuit breaker and electromagnetic switch

We propose a more stable power receiving and distribution system with DC high voltage circuit breakers, highperformance air circuit breakers, and an electromagnetic switch.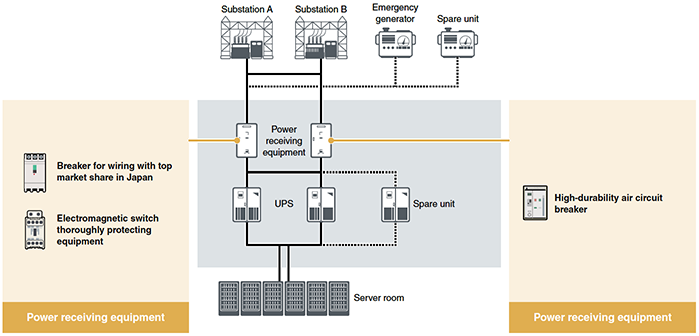 Solution
Introduce a high-reliability low-voltage breaker and electromagnetic switch
Supporting non-stop operation of equipment with an abundant lineup and reliable quality.
Low-voltage Molded Case Circuit Breaker WS-V/WS Series
Achieving downsizing, high reliability, and cost effectiveness

Industry's smallest arc-running breaker system Realization of class width of 54 mm (F Style Product * 32/63 Ampere Frame)
New breaker technology "Expanded ISTAC" improves current limiting performance and breaking capacity
A lineup of plug-in breakers able to be directly connected to the main bus contributing to shortening of power outage time during circuit expansion/specification change work
Products include N-phase reinforced product supporting increases in N-phase electric current due to high frequency and a DC high voltage compatible no-fuse circuit breaker also applicable to highvoltage, direct current (HVDC) communication
Low-voltage Air Circuit Breaker AE-SW Series
Sophistication of power distribution equipment

Achieving high switching reliability through high switching durability
Connection to major networks (CC-Link, MODBUS®) is possible with various interface units
Electromagnetic switch gear MS-T Series
The concept is "downsizing" "standardization" "safety and quality" "wiring properties" "internationalization"

Achieves the world's smallest horizontal width of 36 mm (10 A frame product), contributing to space-saving inside panels
Wide lineup including reversible type, mechanical latch type, and delay release type
Line-up of spring clamp terminal specifications to reduce installation work and improve maintainability