Data Center
Proposals for monitoring systems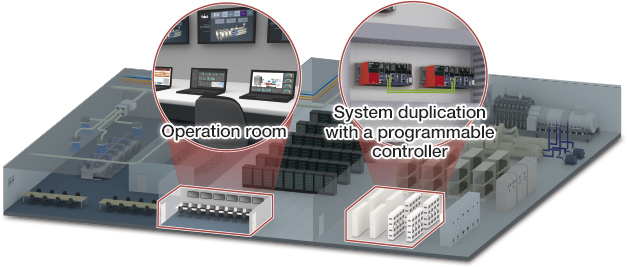 Do you have any requests like…?
1

Want to reduce lifecycle costs from system introduction to operation

2

Want to centrally manage and utilize data

3

Want remote and wide area monitoring
Solution :


Introduce SCADA GENESIS64™

GENESIS64™ delivers advanced visualization with 3D and 2D viewing and a wealth of symbols. The combination of high value-added optional functions and a development environment with a high degree of freedom will contribute to the construction of monitoring systems that customers require.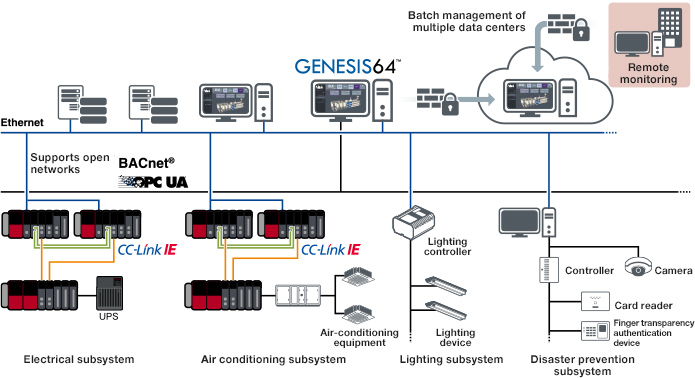 ※For models that cannot be connected to the GENESIS64™, Edgecross can be used.
Supports energy-saving through visualization of energy usage and helps reduce lifecycle costs with an equipment preventive maintenance function
Graphical display of collected data, form output, alarm generation, and analysis make it easy to understand and improve facility operation status. GENESIS64™ also ensures system robustness with features such as operation log output and account restrictions.
Graph Display
View multiple trends simultaneously to get an overall picture of the system. GENESIS64™ makes it possible for users to confirm PUE (Power Usage Effectiveness), an indicator of data center energy efficiency, in a glance.

Form output
From the various data accumulated on the server, GENESIS64 can automatically output forms for various periods of time (daily reports/weekly reports/monthly reports/yearly reports, etc.) and each piece of equipment. In addition to Excel®, files can be outputted in HTML or PDF, and users can choose the display method of their choice from a variety of tables and graphs.

Alarm tone
Sends users alarm information via email when a fault occurs. Can also be used for advance warning, etc. before value drops below the service quality guarantee value (SLA: Service Level Agreement) of the data center.

Preventive maintenance
Records/accumulates factors of equipment faults to enable early recovery when a fault next occurs.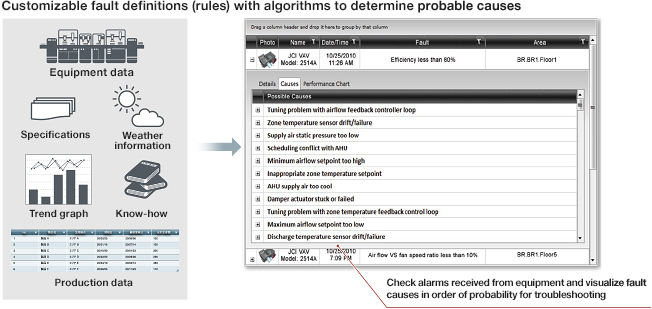 Works with several systems as a platform for data utilization
GENESIS64™ works with other IT tools and Microsoft® applications, helping customers lower their total cost of ownership by providing a single data utilization platform for internal and external information coordination. In addition, OPC™, MODBUS®, and BACnet® can be used as standard equipment to easily connect to various systems and reduce connection costs.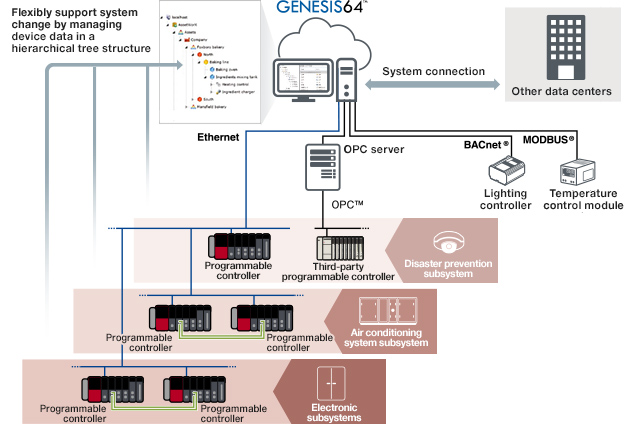 ※For models that cannot be connected to the GENESIS64™, Edgecross can be used.
Remote monitoring/analysis using smart terminals enables wide-area monitoring using cloud
Remote monitoring and analysis of field conditions are possible not only from personal computers but also from smart terminals such as smartphones, tablets, and smart glasses. In addition, by utilizing the cloud, it is possible to monitor multiple locations at once and process large amounts of data.
Support shop-floor workers

Consolidate regional data in the cloud for wide-area monitoring