Data Center
Proposals for energy-saving support and countermeasures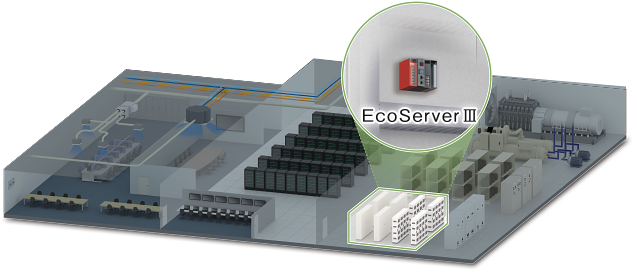 Do you have any requests like…?
Want to achieve visualization of energy consumption and simplify report creation
Solution :


Introduce energy-saving support devices

In data centers that consume large amounts of power, there is a needs to reduce power wastage and provide a stable power supply. With Mitsubishi Electric's energy-saving analysis and diagnostic applications, it is possible to visualize the accumulated data and realize effective energy-saving activities by extracting energy loss and diagnosing factors.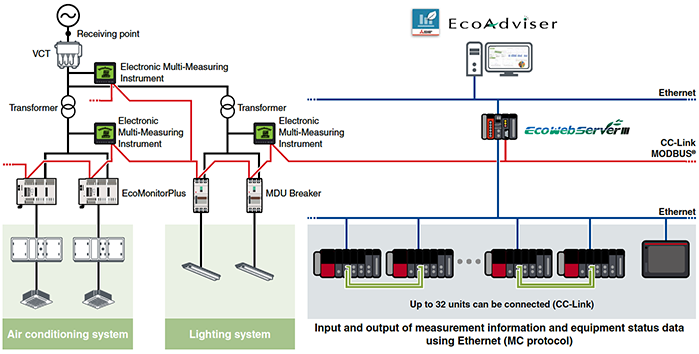 ※For models that cannot be connected to the GENESIS64™, Edgecross can be used.
Solution
Support for energy visualization using energy-saving support devices
The use of various energy-saving support devices enables the measurement of current, voltage, electric power, electric energy, leakage current, etc., which in turn makes energy visualization possible and contributes to the acceleration of the PDCA cycle for energy-saving.
EcoAdviser
An application supporting energy-saving through analysis of energy data

Supports energy-saving analysis with various analysis graphs
Reports can be created using analytic charts
Visualization via a dashboard
EcoWebServerⅢ
"Easy, convenient, compact" energy-saving support tool

Achieves collection/storage/graph conversion of measurement data on a web browser
Standard equipped with graphs required for energy-saving management enabling graph conversion without the need to input drawings
EcoMonitorPlus
Achieving measurement of desired measurement points with retrofitting

Capable of measurement suiting the specific application by combining energy measurement, leakage current measurement, pulse input, analog input, and a control module
Combination with an optional module enables system expansion utilizing logging with an SD card and communication
MELSEC iQ-R Series Energy Measuring Module RE81WH
Measurement with MELSEC iQ-R Series compatible modules

Faster measurement data update cycle (10 ms)
Current and voltage can be measured in two ways: "effective value" and "instantaneous value"
Supporting customers' engineering labor time reductions with engineering tool (GX Works 3)
MDU Breaker
Achieving space-saving/minimal installation energy management

By integrating VT/CT for measurement, measurement display module and breaker, MDU Breaker offers wire-saving, minimal installation work, and space-saving benefits
Capable of measuring and displaying various circuit information including load current, electric energy, and power factor