HVAC (Heating, Ventilation and Air-Conditioning)
HVAC (Heating, Ventilation and Air-Conditioning)
Mitsubishi Electric's HVAC systems enhance control and maximise productivity, while delivering the ideal climate within buildings.
We continuously improve our intelligent hardware such as programmable logic controllers (PLCs) and direct digital controllers (DDCs), managed by our MC Works64 automation and control software, and supplemented by easy-to-use GOT interfaces for operators to make changes manually. Our range of circuit breaker technologies ensure system safety and integrity, while redundant PLCs prevent unexpected interruptions. Mitsubishi Electric's HVAC solutions deliver the right balance of performance, efficiency and reliability to maintain a consistent environment in all types of buildings in all seasons.
Air Conditioning Systems for Buildings
Robust air conditioning systems are an essential part of life in today's modern buildings. Our solutions ensure that chillers and boilers for cooling and heating, air handling units (AHU), and ventilation equipment all work together to create the ideal environment for the building.
Major Applications of Our Products:
- Chiller plant optimization
- Cooling tower optimization
- Boiler control
- Airflow control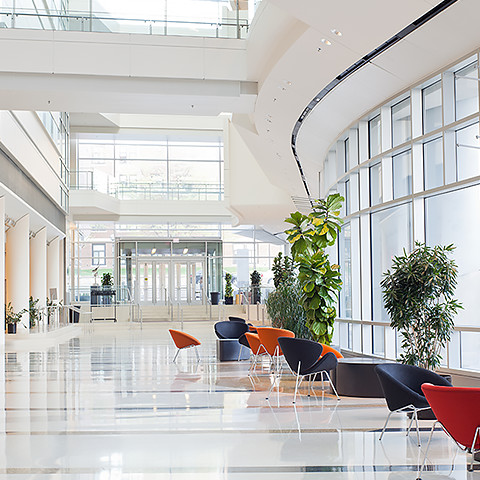 Ventilation Systems for Tunnels
Tunnel ventilation systems deliver clearer visibility and reductions in harmful exhaust gas levels. Our solutions contribute through control of jet fans, dust separators and other equipment.
Major Applications of Our Products:
- Exhaust fan control
- Emergency fan control
- Operating unit number control
- Separator airflow control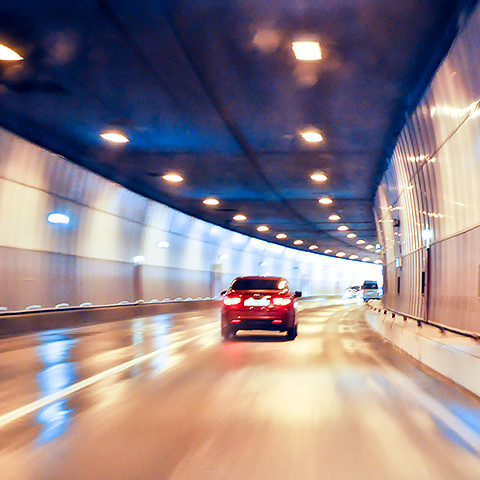 Air Conditioning Systems for Train Stations
High-traffic train station environments are affected by wind, outside weather, and the heat from railcars, lighting systems, and other train-related equipment. In large station buildings, large-scale fans and air conditioning equipment are always in operation. We have solutions to help.
Major Applications of Our Products:
- Energy-saving control
- Remote monitoring control
- Energy monitoring
Clean Room Systems
Clean rooms require pure air and a consistent temperature and humidity to ensure the quality of the products being made therein. Our control solutions for filtering and circulation can help maintain the ideal environment.
Major Applications of Our Products:
- Circulation fan control
- Room pressure control
- Monitoring compliant with 21 CFR Part 11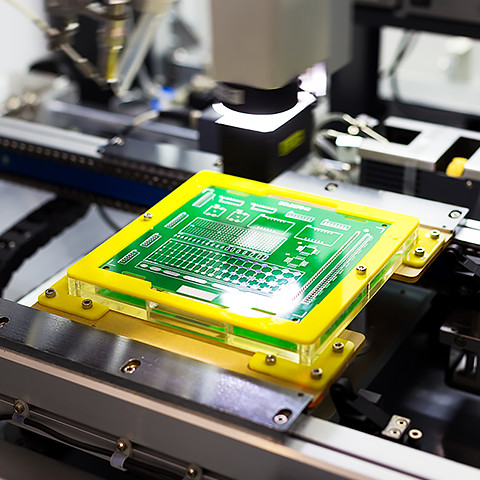 Why Mitsubishi Electric?
Mitsubishi Electric's HVAC Systems offer unparalleled benefits. These advantages bring to our customers the comfort and ease-of-use, while ensuring the smooth operation of their business.
1. Monitoring On-the-Move
Keeping an eye on the HVAC does not have to be confined to the control room. Mitsubishi Electric understands the demands for mobility by today's workforce; our systems can be watched by maintenance staff both onsite or off. Secure remote monitoring is performed from a browser, tablet or smartphone, keeping operators in-the-know in real-time.
More Information
2. Catering for Redundancy
In hospitals, a non-performing HVAC system could result in a swift deterioration in patient health. This is especially true in operating rooms, where every second lost could mean life or death. In such critical environments, HVAC systems must continue to function optimally, even when certain faults occur. Redundancy is therefore a key requirement in these setups, buying ample time for Mitsubishi Electric's engineers to respond and address problems – without interrupting vital life-saving operations.
Time is money in industrial operations and downtime is an undesired scenario that manufacturers want to avoid. It is especially vital on work shifts where machines are left running without human supervision, and HVAC problems could go unnoticed for many hours. This could cause machinery to overheat and malfunction, resulting in undesired costs and production loss. Having built-in redundancy serves to prevent such situations, putting plant managers' minds at ease when they go off for the weekend or a holiday.
More Information
3. Seasonal Changes
In temperate climates, the changing seasons mean that temperatures fluctuate greatly throughout the year. The building's HVAC will also have to adjust to meet these demands, from cooling in hot summers to heating in freezing winter months. Mitsubishi Electric's HVAC systems are designed with the ability to maintain a consistent indoor temperature, regardless of the climate outside.
4. Quiet Operation
Noise is often an overlooked issue in the choice of an HVAC system. Yet, this factor can often be a distraction to the occupants of the building, affecting productivity and causing undesired interruptions to work. Mitsubishi Electric's HVAC systems are designed to run silently in the background, allowing the freedom for work to be carried out effectively and efficiently.
More Information
FR-F series
FR-D series
5. Simplified, Unified Management
In many factories, the production line, HVAC, lighting and utilities are monitored via separate systems. With Mitsubishi Electric's e-F@ctory solution, a single system is all that is needed to monitor all of these functions. Productivity, quality and energy efficiency can easily be managed, vastly reducing overheads and staff costs.
More Information
6. Visualising Energy Use
The heart of every successful system is still the human element. Operators have to ensure that things run smoothly, and be able to quickly detect exceptional events.
Whether it is for hospitals, commercial buildings or factories, visual representations of energy consumption are needed to inform operators if the system is functioning correctly. Mitsubishi Electric's SCADA MC Works64 serves this purpose and presents clear, easy-to-understand graphical onscreen illustrations.
More Information
7. Simplified Setup
Mechanical ventilation fans are a common and essential feature across HVAC systems. Yet the conventional method of hardwiring this equipment takes many hours and requires the deployment of large cable trunking and conduits. This means a number of inherent disadvantages: commissioning time is increased; a higher risk of human error; difficulties in detecting cable breaks; and little flexibility for system changes.
Understanding these limitations, Mitsubishi Electric has revolutionised and perfected the art of fan control in buildings. Using CC-link as the communications backbone, the only necessary field wiring is the communications cable between each panel. The advantages of this method are:
Allowing the flexibility for changes to be made to the HVAC system
Vastly reduced timeframe for commissioning
A neatly wired system that is immune to electromagnetic interference
Wire breaks are detected quickly and facilities management staff are immediately alerted for troubleshooting
More Information
System Configuration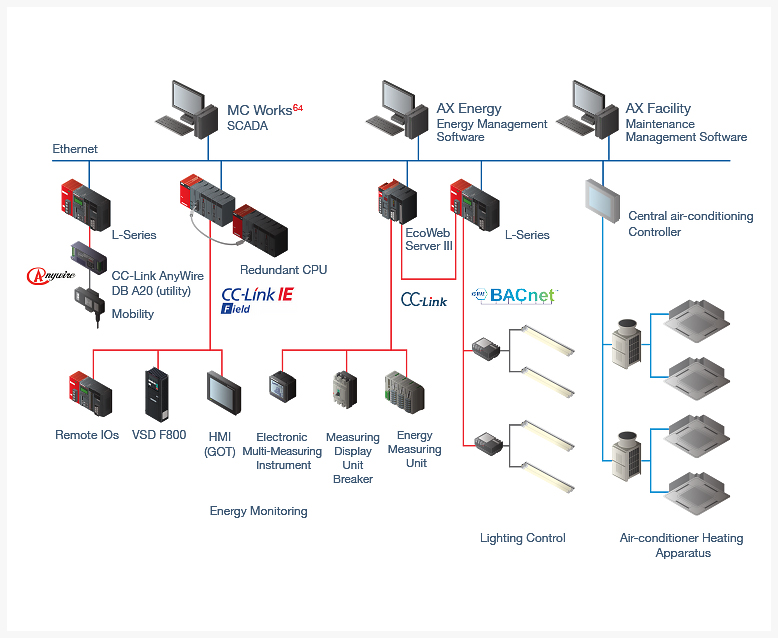 Product Lineup