Oil and Gas
Mitsubishi Electric provides the rich functionality and proven reliability to help optimise standard automation in the oil and gas industry.
Technology for the oil and gas production and processing industry is always evolving. The same is true of Mitsubishi Electric's world-class electrical and automation products. We offer a range of technologies to help address the complex challenges faced by the industry, such as optimisation of technical processes, energy-efficiency, and increases in the level of plant automation at oil and gas facilities.
Local Automation
Local automation stations for different process units are widely used in the SCADA systems of the oil and gas industry, but the local stations, with limited number of I/O channels, are often located hundreds of kilometers away from the central control room.
Mitsubishi Electric offers an extensive lineup of equipment to provide the ideal local automation solution for a variety of needs. For example, our compact PLC for systems with limited signal scoring helps reduce system costs. We also offer highly reliable communications equipment optimized for remote monitoring.
Major Applications of Our Products:
- Gas and oil well sites
- Test separators
- Chemical injection skids
- Water intake facilities and reservoir pressure maintenance systems
- Pump and compressor stations
- Transformer substations
- Independent boiler facilities
- Controlled facilities for pipeline telemetry
- Cathode protection stations for pipelines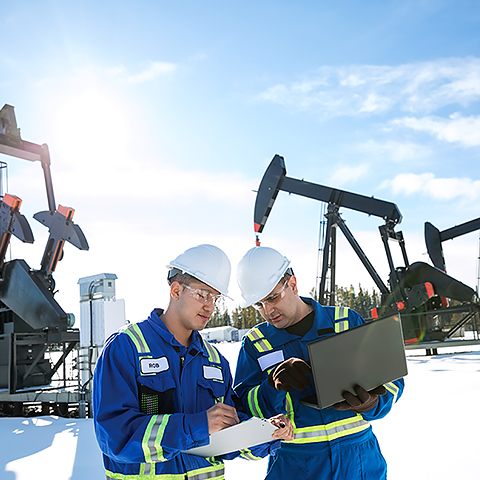 Characteristics of Local Automation Stations
- Limited number of I/O channels, usually not more than 200
- Cost-effective hardware platform
- Seamless integration of local control systems into host automation system and CCR by open communication protocols
System Configuration
Site Automation
Oil and gas complexes contain a number of interlinked process units and stations that are located in individual processing areas. The site objects incorporate a large amount of control equipment and actuators. Their signals are routed directly to the I/O system of the central controller.
Normally, the process is continuous; therefore, the automation hardware platform must conform to high performance, scalability and reliability requirements our products meet the demands of the control system.
Major Applications of Our Products:
- Booster pump stations
- Initial water separation units
- Oil treatment units
- Central collecting stations
- Gas treatment units
- Oil pumping stations
- Tank farms
- Gas compressor stations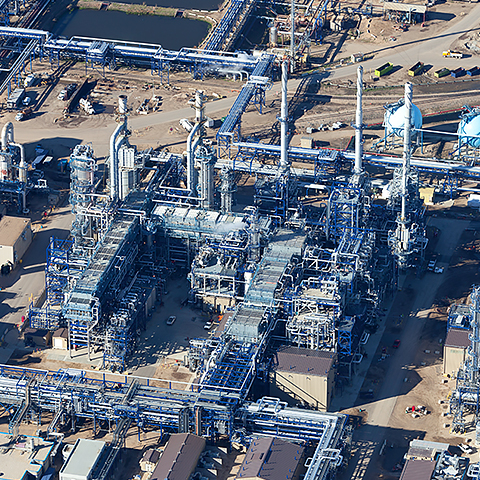 Characteristics of Local Automation Stations
- Large number of I/O signals in the control system – from hundreds to thousands
- In addition, large number of analog signals (pressure, temperature, flow and level sensors)
- Large number of PID control loops (e.g. for level control in separators)
- Continuous operation of the process thanks to hardware redundancy of the system elements
System Configuration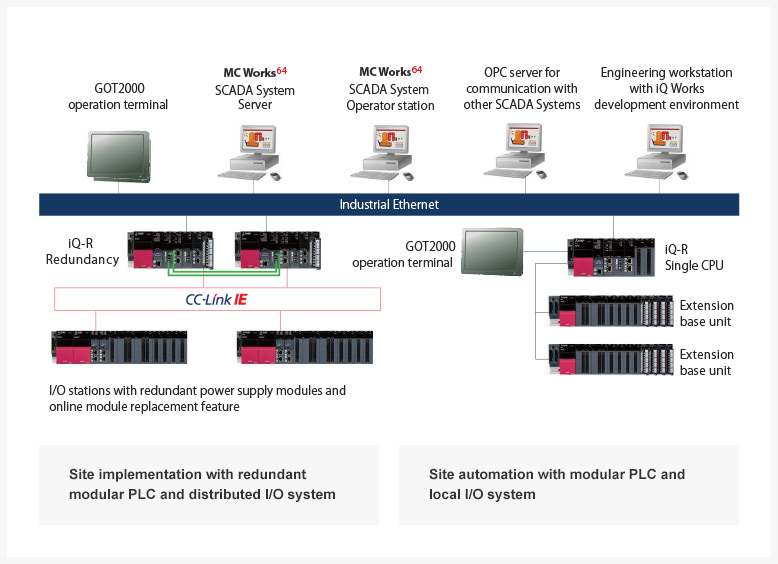 Why Mitsubishi Electric?
Mitsubishi Electric's total solutions for oil and gas offer unparalleled benefits. These advantages bring comfort andease-of-use to customers, while ensuring the smooth operation of their business.
Product Lineup