Data Collection/Analysis
The Cycle for shop floor Improvement With Data Utilization
Improving productivity, quality, and energy efficiency by utilizing shop floor data to find the key to solving production issues and promoting improvements
Targets Setting
What is the issue? What is the current status? What needs to be solved?
POINT
Clarify what issues should be solved.
Identify managerial issues
●

Productivity improvement

●

Quality improvement

●

Energy saving & conservation
Break down the issues
Break down each managerial issue into more specific shop floor issues for which solutions can be devised.
Application of data collection/analysis solutions
1Data collection
What kind of data should be collected and how?
POINT
Select and collect data based on knowledge in equipment and production processes.
Factor analysis, data selection, and data collection
Select, collect, and accumulate the data necessary for solving the shop floor issues based on the engineer's wealth of experience, intuition, and knowledge.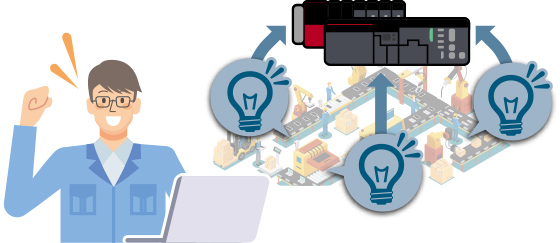 2Visualization
Visualization of collected data and confirmation of the effectiveness of improvements
POINT
Quantify the current situation and gain awareness.
Data visualization
Display the collected data in an easily viewable format, to provide a visual indication of the status of the shop floor.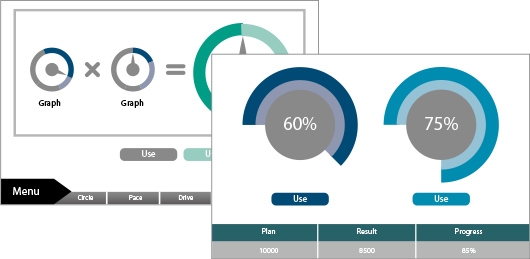 3Analysis
Factor analysis from collected data
POINT
Find the factors necessary for improving the shop floor and solving issues.
Data analysis
Use the collected data to analyze problem-solving factors.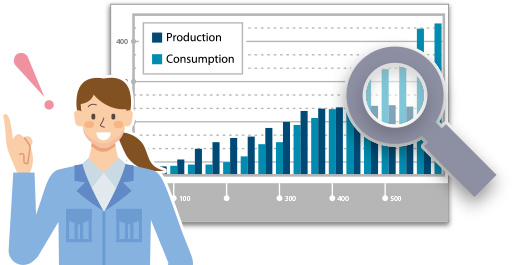 4Diagnosis
Data diagnosis based on the analysis results
POINT
Evaluate the improvements made and issues solved and create a continuous cycle for improvements.
Improvements using a diagnostic system
Create diagnostic rules based on the analysis results, diagnose the collected data in real time, and provide the shop floor with feedback.