News Release Archives
Note that the releases are accurate at the time of publication but may be subject to change without notice.
FOR IMMEDIATE RELEASE No.2666
Mitsubishi Electric to Launch 600V High-voltage Integrated Circuit for Automotive Applications
Will enable smaller, more reliable EV and HEV voltage converters
Tokyo, March 6, 2012
- Mitsubishi Electric Corporation (TOKYO: 6503) announced today it has developed a new 600V high-voltage integrated circuit (HVIC), the M81729FP, for use in voltage converters of electric vehicles (EVs) and hybrid electric vehicles (HEVs). Global sales begin on
April 2.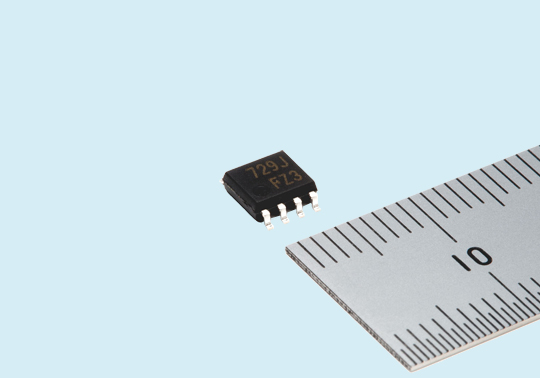 600V HVIC for automotive applications
[M81729JFP]
EVs and HEVs use voltage converters incorporated with power devices to convert high-voltage current, which is used otherwise to power motors, into low-voltage current to power various equipment in the vehicle.


In industrial applications, it is common to drive power devices with HVICs, while automotive applications typically use designated circuits that incorporate comparators and photo couplers for insulation purposes, etc., because of stringent need for guaranteed wide temperature ranges and high reliability. Designated circuits, however, pose challenges in terms of size and reliability.


Mitsubishi Electric's new 600V HVIC achieves a wide guaranteed temperature range of minus 40 to plus 125 degrees C, and offers higher reliability for automotive applications. Such advantages will contribute to the downsizing and higher reliability of EV and HEV voltage converters.
Product Features
1)
High reliability and small size for automotive applications

| | |
| --- | --- |
| - | Operating temperature range of -40 to +125°C, suited to the demands of automotive applications. |
| - | Shuts down power output if power supply voltage falls in order to prevent power devices from being destroyed. |
| - | High-temperature and long-term burn-in tests assure high reliability. |
| - | Eliminates designated circuits that need photo couplers or comparators, enabling smaller voltage converters. |

2)
High performance supports effective control of voltage converters


| | |
| --- | --- |
| - | Mitsubishi Electric's 600V multiple floating field plate (MFFP) structure reduces the effect of high-potential wiring created by the level shift feature, lowering maximum current leakage to 1μA. |
| - | Simplifies control of power devices by matching delay time between the high- and low-voltage sides. |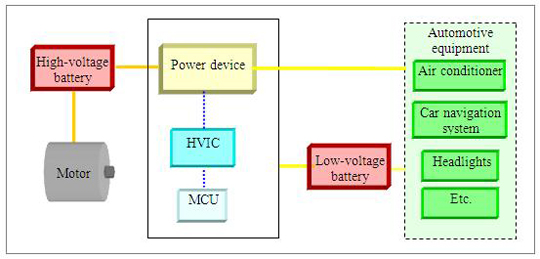 3)
Environmental designing


| | |
| --- | --- |
| - | The M81729JFP, which uses silver paste resin for chip mounting and lead-free solder for coating external terminals, is compliant with the Restriction of the Use of Certain Hazardous Substances in Electrical and Electronic Equipment (RoHs) Directive. |
Main specifications
Model
M81729JFP
Breakdown voltages
600V (high-side floating supply)
24V (low-side supply)
Output current
+200mA/-350mA
Low-side circuit current
0.2mA
High-side circuit current
0.6mA
Package type
8P2S
Junction-ambient thermal resistance : Rth (j-a)
50°C/W
Functions
5V logic input
Under-voltage lockout: UV (high side and low side)
Input interlock