News Release Archives
Note that the releases are accurate at the time of publication but may be subject to change without notice.
FOR IMMEDIATE RELEASE No. 2719
Mitsubishi Electric Establishes Direct Presence in Turkey
New company to expand business in Turkey and surrounding regions
TOKYO, January 8, 2013 - Mitsubishi Electric Corporation (TOKYO: 6503) announced today the establishment of Mitsubishi Electric Turkey A.Ş., giving the company its first direct presence in Turkey. The new company will act as a base to expand and support Mitsubishi Electric Group business in Turkey and surrounding regions.
Mitsubishi Electric's business in Turkey currently includes air conditioning, factory automation and infrastructure-related products such as satellites, elevator/escalators and electrical equipment for railcars. Sales totaled 9.8 billion yen, approximately 112 million USD, in the previous fiscal year that ended March 2012.

Turkey's nominal GDP was the world's 18th largest in 2011 at $774 billion, thanks to spending by the country's growing middle class and a large working population. Turkey's real GDP growth rate was also high at 8.5% in 2011 and steady growth of 2-4% is predicted in 2012 and beyond. Mitsubishi Electric has positioned Turkey as a priority market based on this growth potential.

Maya Akar Center, location of Mitsubishi Electric Turkey A.Ş.

Name
Mitsubishi Electric Turkey A.Ş.
Location
Headquarters: Istanbul
President
Kei Uruma
Paid-in capital
2.26 million Turkish Lira (approximately 100 million yen)
Ownership
Mitsubishi Electric Europe B.V.: 70%
Mitsubishi Electric Corporation: 30%
Registration
December 7, 2012
Activities in Turkey and surrounding regions
1. Marketing, including market research
2. Setting up sales networks and managing distributors
3. Social infrastructure-related business development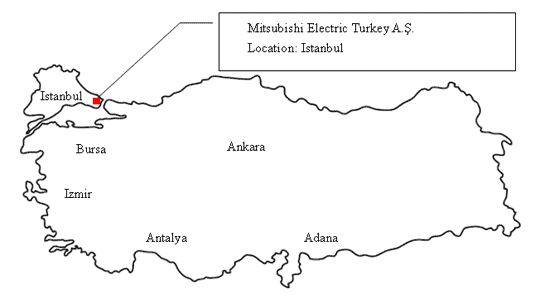 Customer Inquiries
Europe, the Middle East and Africa Group
Global Strategy & Marketing Division
Mitsubishi Electric Corporation
Tel: +81-3-3218-3137