News Release Archives
Note that the releases are accurate at the time of publication but may be subject to change without notice.
FOR IMMEDIATE RELEASE No. 2743
Mitsubishi Electric Produces 30,000th Gas Circuit Breaker in Japan
TOKYO, March 19, 2013
- Mitsubishi Electric Corporation (TOKYO: 6503) announced today that it produced its milestone 30,000th gas circuit breaker (GCB) in the 72kV and higher class in Japan. GCBs protect electric facilities by cutting off irregular current in the case of accidents, such as lightning strikes to power grids.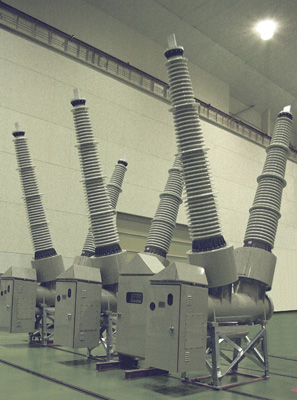 300kV gas circuit breaker
Mitsubishi Electric's global shipments of GCB units now exceed 47,000 units, including those that have been manufactured by its U.S. affiliate Mitsubishi Electric Power Products, Inc. since 1986. Going forward, Mitsubishi Electric intends to contribute to electricity infrastructure worldwide through further improvements in product performance, reliability and maintenance.

Mitsubishi Electric has produced switchgear for the last half-century. Since its first 84/72kV GCB in 1965, the company has steadily enhanced performance to meet growing high-voltage and large-current power infrastructure needs around the world.

Milestones in Mitsubishi Electric's GCB Production
| | |
| --- | --- |
| | |
| •1965 | Japan's first 84/72kV GCB |
| •1973 | World's first 550kV hydraulic operating, four-break GCB for gas-insulated switchgear |
| •1991 | GCB cumulative production reaches 20,000 units |
| •1995 | 550kV hydraulic operating, one-break GCB |
| •2010 | Japan's first 550kV spring operating, two-break GCB |
| •2013 | GCB cumulative production reaches 30,000 units in Japan |