News Release Archives
Note that the releases are accurate at the time of publication but may be subject to change without notice.
FOR IMMEDIATE RELEASE No. 2751
Mitsubishi Electric Delivers World's First Helicopter Satellite Communication System
Transmits high-speed, real-time aerial video of disaster areas from helicopters
TOKYO, March 28, 2013
- Mitsubishi Electric Corporation (TOKYO: 6503) announced today that it has delivered the world's first helicopter satellite communication system (HSA40) to Japan's Fire and Disaster Management Agency (FDMA) through the Tokyo branch of the company's distributor, Seiryo Electric Company. The HSA40 system will begin operating in early April after airborne station is installed in helicopter of the Kyoto City Fire Department and base stations are installed in facilities both at the Kyoto City Fire Department in Kyoto and FDMA in Tokyo.

The system is expected to be used to gather information on disaster areas to support the rapid deployment of emergency-response measures. Currently, information is gathered with the so-called Heli-TV system, which transmits TV signals directly from a helicopter to a relay station on the ground. The conventional system can be prone to transmission disruptions due to mountains or buildings, and in many cases requires an operating relay station in the proximity of the disaster area.

Mitsubishi Electric's HSA40 helicopter satellite communication system transmits video and voice data from the helicopter to a satellite, enabling real-time information such as aerial video to be transmitted reliably to base stations from anywhere in Japan.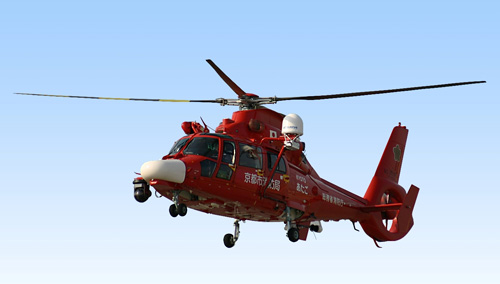 FDMA Helicopter with HSA40

Main features
1)
Transmits aerial video of disaster areas to all parts of Japan

| | |
| --- | --- |
| - | Stable transmission of airborne video by intermittent transmission synchronized with blade rotation. |
| - | No need for relay stations. Transmissions from helicopters to base stations can be sent from anywhere in Japan at the same time. |
| - | Communication not affected by mountains or high buildings. |

2)
Transmits high-quality video and enables bi-directional voice and data communication


| | |
| --- | --- |
| - | Uses the newest image compression technology, H.264/MPEG-4 Advanced Video Coding, for real-time high-resolution images. |
| - | Bi-directional voice and data communication between airborne and base stations. |
| - | Retransmission of video and information via ground communication network or base stations. |

3)
Lightweight, power saving airborne equipment


| | |
| --- | --- |
| - | In-cabin equipment of airborne station weighs about 20kg and external equipment about 35kg, excluding camera equipment. |
| - | Airborne station achieves low-power consumption, enabling operation via standard power source on helicopters. |