News Release Archives
Note that the releases are accurate at the time of publication but may be subject to change without notice.
FOR IMMEDIATE RELEASE No. 2755
Mitsubishi Electric to Open New Cooling & Heating Facility in Georgia, USA
Strengthened sales, engineering and logistics will help expand air-conditioning business
TOKYO, April 18, 2013
- Mitsubishi Electric Corporation (TOKYO: 6503) announced the opening of a new office building as the headquarters of Mitsubishi Electric US, Inc.'s Cooling & Heating Division. Located on the outskirts of Atlanta, Georgia, the three-billion-yen (approximately 30 million U.S. dollars) facility will house sales and administrative offices, an engineering center, training facilities and warehouse. Operations begin this month.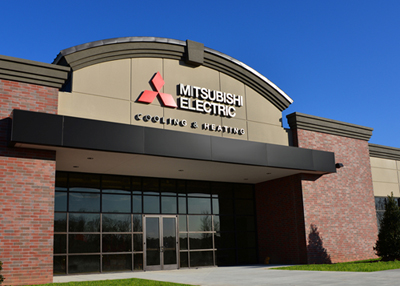 New Cooling & Heating Division HQ of Mitsubishi Electric US, Inc.
Ductless air-conditioning sales are expected to grow as U.S. consumers become increasingly energy-conscious. To better meet market needs and enhance operational efficiencies, Mitsubishi Electric has expanded warehouse space and placed several offices and its engineering center under one roof at its new facility. Engineering functions also have been enhanced to develop and test products for U.S. customers.

Through this investment, Mitsubishi Electric expects to contribute to the local economy by hiring more than 100 people for the engineering center and warehouse over the next three years.

Facility Outline
Location
1340 Satellite Blvd., Suwanee, GA, 30024
Building perimeter
Approximately 51,000 square meters
Functions
Offices, engineering and training facilities, and warehouse
(The engineering facility includes testing equipments to simulate diverse climates of U.S. regional markets.)
Start of Operation
April 2013
Investment
About 3 billion yen (about 30 million U.S. dollars)
Green measures

- U.S. Green Building Council LEED certification (pending)
- Roof skylight in warehouse
- Mitsubishi Electric inverter driven air-conditioning