News Release Archives
Note that the releases are accurate at the time of publication but may be subject to change without notice.
FOR IMMEDIATE RELEASE No.2768
Mitsubishi Electric to Launch Super-mini DIPIPM Ver.6
Contributes to reduced power consumption and lower cost of small-capacity motors for air conditioners and other consumer appliances
TOKYO, June 13, 2013
- Mitsubishi Electric Corporation (TOKYO: 6503) announced today it will launch its Ver.6 Series transfer-molded super-mini dual in-line package intelligent power module (DIPIPM
TM
) using a seventh-generation IGBT with a CSTBT structure. The module reduces both power loss and the cost of inverter drive systems for motors used in air conditioners and other small-capacity motor drive applications. Sales begin June 21.

This product will be exhibited at Power Conversion Intelligent Motion (PCIM) Asia 2013, which will be held in Shanghai, China from June 18 to 20.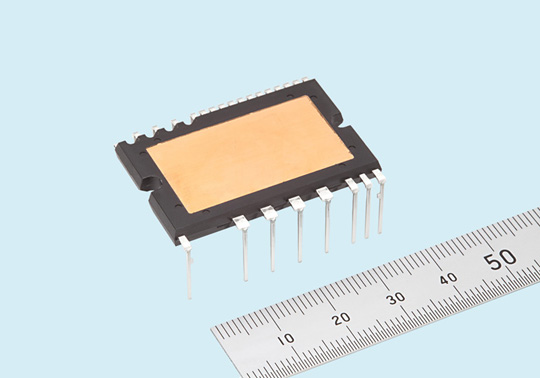 Product Features
1)
Top-class low-power consumption for consumer appliances


| | |
| --- | --- |
| - | Built-in seventh-generation IGBT with CSTBT structure reduces VCE(sat) by 15% compared with Mitsubishi Electric's Ver.5 series. Also helps to reduce power consumption in consumer appliances. |
| - | VCE(sat) dispersion of IGBT is reduced, so VCE(sat) specification has a 33% narrower range than the Ver.5 series. |

2)
Expanded current rating in super-mini package


| | |
| --- | --- |
| - | A current rating lineup ranging from 10A to 35A. (Existing products have a max. rating of 30A) |
| - | Bootstrap diodes feature built-in current limiting resistors. |

3)
More flexible inverter board design


| | |
| --- | --- |
| - | Short-circuit detection accuracy improved to +/-5%, compared to +/-10% for existing products. |
| - | Package and pin assignment are compatible with Ver.5 and Ver.4 series. |

Sale Schedule
Model
Specification
Shipment date
PSS10S92E6/F6-AG
10A / 600V
June 21, 2013
PSS15S92E6/F6-AG
15A / 600V
PSS20S92E6/F6-AG
20A / 600V
PSS30S92E6/F6-AG
30A / 600V
August 28, 2013
PSS35S92E6/F6-AG
35A / 600V