News Release Archives
Note that the releases are accurate at the time of publication but may be subject to change without notice.
FOR IMMEDIATE RELEASE No. 2781
Mitsubishi Electric's Elevator and Escalator Business in Vietnam Becomes Subsidiary
Reinforcing business and enhancing sales to meet growing demand
TOKYO, September 5, 2013
-
Mitsubishi Electric Corporation
(TOKYO: 6503) announced today it has acquired additional shares of Melco Elevator Vietnam Co., Ltd., its elevator and escalator joint venture, in order to convert it to a subsidiary company. Subsequently, the company was renamed Mitsubishi Elevator Vietnam Co., Ltd. This change will enable Mitsubishi Electric to further expand its operations in the growing market of Vietnam and to centralize control over product safety and quality.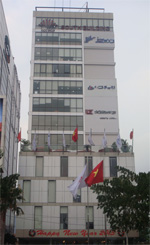 South Building, where
Mitsubishi Elevator Vietnam
Co., Ltd. have their off
Mitsubishi Electric has been conducting business in Vietnam since 1973. In 2008, the company established Melco Elevator Vietnam Co., Ltd., a joint venture engaged in elevator and escalator sales, installation and maintenance, with Toan Tam Engineering Co., Ltd. (TTE). Mitsubishi Electric also concluded a distributorship agreement with Thang Long TLE Group (TLE). With these two sales channels, the company has provided elevators and escalators for high-profile facilities like the Sheraton Saigon Hotel & Towers and Tan Son Nhat International Airport in Ho Chi Minh City, garnering over 20% of the Vietnamese market.

In recent years, demand for elevators and escalators in Vietnam has exceeded 4,000 units annually and is expected to continue rising. By acquiring TTE's shares and transferring TLE's maintenance business to the new subsidiary, Mitsubishi Electric will enhance the scale and profit-generating capacity of its business to meet this demand while better ensuring the safety and reliability of its products and services.

Overview of Mitsubishi Elevator Vietnam Co., Ltd.
General Director
Junichiro Yoshioka
Location
60 Truong Son Street, Ward 2, Tan Binh District, Ho Chi Minh City, Vietnam
Ownership
Mitsubishi Electric Corporation: 45%
Mitsubishi Electric Building Techno-Service Co. Ltd.: 25%
Mitsubishi Corporation: 25%
Mitsubishi Electric Asia Pte. Ltd.: 5%
Capital
16.5 billion VND (approximately 66 million yen)
Foundation
March 2008
Employees
Approximately 600
Business
Elevator and escalator sales, installation and maintenance