News Release Archives
Note that the releases are accurate at the time of publication but may be subject to change without notice.
FOR IMMEDIATE RELEASE No.2782
Mitsubishi Electric Enters Brazilian Elevator and Escalator Market
Adds established Brazilian company as subsidiary
TOKYO, September 12, 2013
-
Mitsubishi Electric Corporation
(TOKYO: 6503) announced today that it has assumed ownership of Brazilian elevator and escalator company LGTECH ELEVADORES S.A. (LGT), launching business operations under the name MELCO ELEVADORES DO BRASIL S.A. this month. Mitsubishi Electric will further expand its elevator and escalator business through its full-scale entry into the Brazilian market, the largest in South America.

By bringing in LGT, which was founded in 2006, as a subsidiary, Mitsubishi Electric will quickly be able to provide safe, high-quality products and services to the Brazilian market by making full use of LGT's technological strength, management resources and rigorous quality control gained through its manufacturing, sales, installation and maintenance businesses.

In recent years, demand for elevators and escalators in Brazil has exceeded 15,000 units annually. Supported by steady economic growth, demand is expected to continue rising with new investment in construction spurred by an expanding middle class and a population shift to urban areas.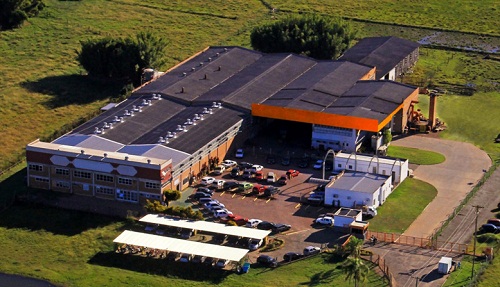 MELCO ELEVADORES DO BRASIL S.A.
Overview of MELCO ELEVADORES DO BRASIL S.A.
Chairman&CEO:
(To be appointed by Mitsubishi Electric)
President&COO:
Lauro Galdino
Location:
BR 116 Road, km 302, Bom Fim, City of Guaíba, State of Rio Grande do Sul, CEP 92.500-000, Brazil
Ownership:
Mitsubishi Electric Corporation: 59.0%
Mitsubishi Electric Building Techno-Service Co. Ltd.: 14.3%
Melco de Colombia Ltda.: 14.3%
Mitsubishi Electric do Brasil Comércio e Serviços Ltda.: 7.1%
Lauro Family Administração e Participações Ltda.: 5.3%

Capital:
52.7 million real (approximately 2.37 billion yen)
Foundation:
September 2013 (LGT founded November 2006)
Employees:
Approximately 300
Business:
Elevator and escalator sales, manufacturing, installation and maintenance