News Release Archives
Note that the releases are accurate at the time of publication but may be subject to change without notice.
FOR IMMEDIATE RELEASE No.2791
Mitsubishi Electric to Add Two Wide-Screen Touch Panels to Lineup of Color TFT-LCD Modules
TOKYO, October 9, 2013
-
Mitsubishi Electric Corporation
(TOKYO: 6503) announced today the addition of 7.0-inch WVGA and 12.1-inch WXGA models to their lineup of industrial-use color TFT-LCD modules capable of intuitive operation even with gloved hands. Sales will begin on October 25 at Mitsubishi Electric offices worldwide (
"http://www.MitsubishiElectric.com/semiconductors/
).Initial production has been set at 2,000 units per month for each new model.

The two additions to Mitsubishi Electric's color TFT-LCD module lineup of high quality touch-panel screens combining excellent visual clarity with durable cover glass will expand the options for wide-aspect screens, bringing the total number of available display sizes to 10, ranging from 6.5 to 19.0 inches.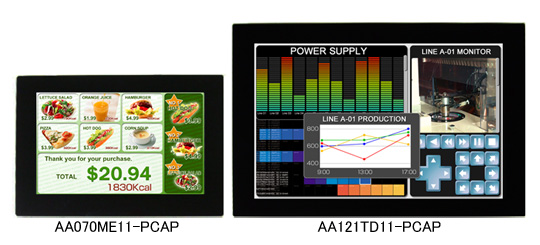 Highly reliable and widely applicable touch-panel solutions

-

Wide range of solutions, including TFT-LCD, PCAP touch panel, touch controller and driver software, for diverse industrial applications.

-

Factory-installed TFT-LCD, PCAP touch panel, cover glass and touch controller for excellent reliability.

-

To adapt to diversified operational environments, many options are available, including optical bonding (resin bonding between the TFT-LCD module, touch-panel sensor and cover glass) for clearer images in bright environments, tempered cover glass and anti-reflection/anti-smudge surface treatments.
Excellent visual clarity combined with tactile operation via cover glass

-

Proprietary detective processing for smooth, accurate response to finger movements even gloved fingers.

-

Ultra-thin, highly conductive sensor lines with proprietary TFT array technologies for excellent clarity.
Expanded lineup for broader range of industrial applications

-

Two new touch-panel modules offer wide-aspect ratios for more varied industrial applications.
Lineup of color TFT-LCD modules with projected capacitive touch panel (new models in bold)


Display Size

Resolution

Model

4:3

6.5-inch

VGA

AA65VE11-PCAP

8.4-inch

SVGA

AA084SD11-PCAP

10.4-inch

XGA

AA104XF12-PCAP

12.1-inch

XGA

AA121XN11-PCAP

15.0-inch

XGA

AA150XT11-PCAP

5:4

19.0-inch

SXGA

AA190EA01-PCAP

Wide

7.0-inch

WVG

AA070ME11-PCAP

9.0-inch

WVGA

AA090TA01-PCAP

10.6-inch

WXGA

AA106TA01-PCAP

12.1-inch

WXGA

AA121TD11-PCAP