News Release Archives
Note that the releases are accurate at the time of publication but may be subject to change without notice.
FOR IMMEDIATE RELEASE No.2795
Mitsubishi Electric to Build New Engineering Facility in Kumamoto
Will accelerate new technologies and devices for TFT-LCD modules for industry and automotives
TOKYO, October 22, 2013
-
Mitsubishi Electric Corporation
(TOKYO: 6503) announced today that it will construct a new engineering facility in Kikuchi, Kumamoto Prefecture of southern Japan to accelerate development of liquid crystal display technologies and devices for fields including general industry and automotives. The one-billion-yen facility is expected to start operating in January 2015.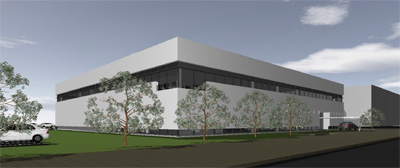 Rendition of new engineering facility
The new engineering facility will strengthen the company's TFT-LCD module technologies and accelerate development of related products, particularly those for which demand is growing and diversifying. Related design and development departments will be moved here from the existing Kumamoto Factory, helping to facilitate interaction between the departments while enhancing operational efficiency. The facility will be adjacent to the Shisui Factory of Melco Display Technology Inc. (MDTI), Mitsubishi Electric's manufacturing base for TFT-LCD modules.

Mitsubishi Electric's high-quality color TFT-LCDs are used in wide-ranging applications including POS terminals, bank ATMs, production-line displays and automotive displays for car navigation, center information displays, cluster meter displays and more.

Facility Outline
| | |
| --- | --- |
| Location | 1576-1 Sumiyoshi, Shisui-machi, Kikuchi, Kumamoto Prefecture, Japan |
| Building perimeter | Approximately 2,000 square meters |
| Floor space | Approximately 4,000 square meters |
| Structure | 2-story steel frame |
| Purpose | Design and development of TFT-LCD devices |
| Business units | Department of Design Technology, Application Engineering, Quality Assurance, Production Planning, and Administration |
| Groundbreaking | March 2014 |
| Completion | October 2014 |
| Operations | From January 2015 (sequential launch) |
| Investment | Approximately JPY 1 billion |
| Green measures | LED lighting, double-pane glass & energy-efficient air conditioners. |