News Release Archives
Note that the releases are accurate at the time of publication but may be subject to change without notice.
FOR IMMEDIATE RELEASE No.2812
Mitsubishi Electric to Launch Ku-band GaN HEMT MMIC with Integrated Linearizer for Satellite Earth Stations
TOKYO, January 20, 2014
-
Mitsubishi Electric Corporation
(TOKYO: 6503) announced today it will launch a Ku-band
*
20W monolithic microwave integrated circuit (MMIC) amplifier for satellite earth stations, featuring the world's first gallium nitride (GaN) high-electron mobility transistor (HEMT) MMIC with an integrated linearizer to compensate for distortion. The MGFG5H1503 GaN HEMT, which has output power of 43dBm (20W) and linear gain of 20.0dB, will contribute to downsizing, high performance and faster development of power transmitters. Mitsubishi Electric will begin shipping samples on February 1.

| | |
| --- | --- |
| * | Microwave band ranging from 12-18GHz |
MGFG5H1503, as well as Mitsubishi Electric's existing 50W and 80W GaN HEMTs enable all high-power amplifier stages of power transmitters to be configured for a wide range of output power.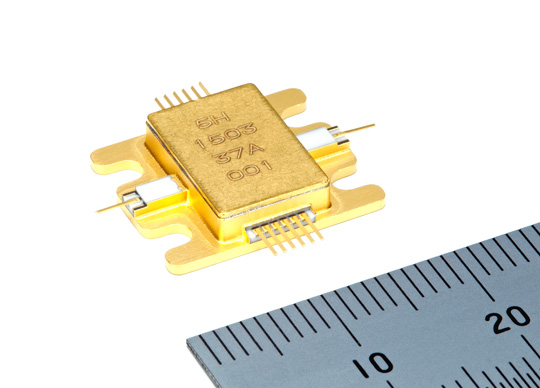 Ku-band 20W GaN MMIC MGFG5H1503
The demand for satellite communication is increasing, especially in Ku-band, which enables high-speed communication even under adverse conditions, such as natural disasters, and in areas where construction of communication facilities is difficult. Gallium arsenide (GaAs) amplifiers have been commonly employed in microwave power transmitters, but output power is limited by their low breakdown voltage and low-voltage operation. The problem is solved with Mitsubishi Electric's MGFG5H1503 Ku-band GaN HEMT MMIC with integrated linearizer, which improves output power.

Product Features
1)
Downsizing and high linear gain


| | |
| --- | --- |
| - | World's first GaN MMIC with multiple amplifier stages, matching circuit and linearizer in one chip. |
| - | Three amplifier circuits integrated into one chip, reducing the chip's size by 60 percent to help downsize power transmitters. |
| - | High linear gain of 20dB, or 1dB more than 3 stages of GaAs FETs*1 combined. |
| *1 | Case example of Mitsubishi Electric's GaAs combined MGF2430A, MGFK38A3745, and MGFK44A4045 |

2)
Low distortion for high signal integrity


| | |
| --- | --- |
| - | Built-in linearizer enables low distortion in power transmitters. |
| - | Linearity retained at high output power by using 50W-class transistor as driver stage. (Inter modulation*2 improves linear output power by up to 5dB at -25dBc compared to 3 stages of GaAs FETs*1 combined.) |
| *2 | Distortion when two-tone signal is input into amplifier, with lower values representing higher performance. |

3)
Ku-band GaN HEMT lineup expansion


| | |
| --- | --- |
| - | Combining MGFG5H1503 with existing 50W MGFK47G3745 and 80W MGFK49G3745 enables configuration of multiple power amplifier stages. |
| - | Shortens development period for power transmitters. |